Gungo Walk World Alternative Music & Arts Festival August 25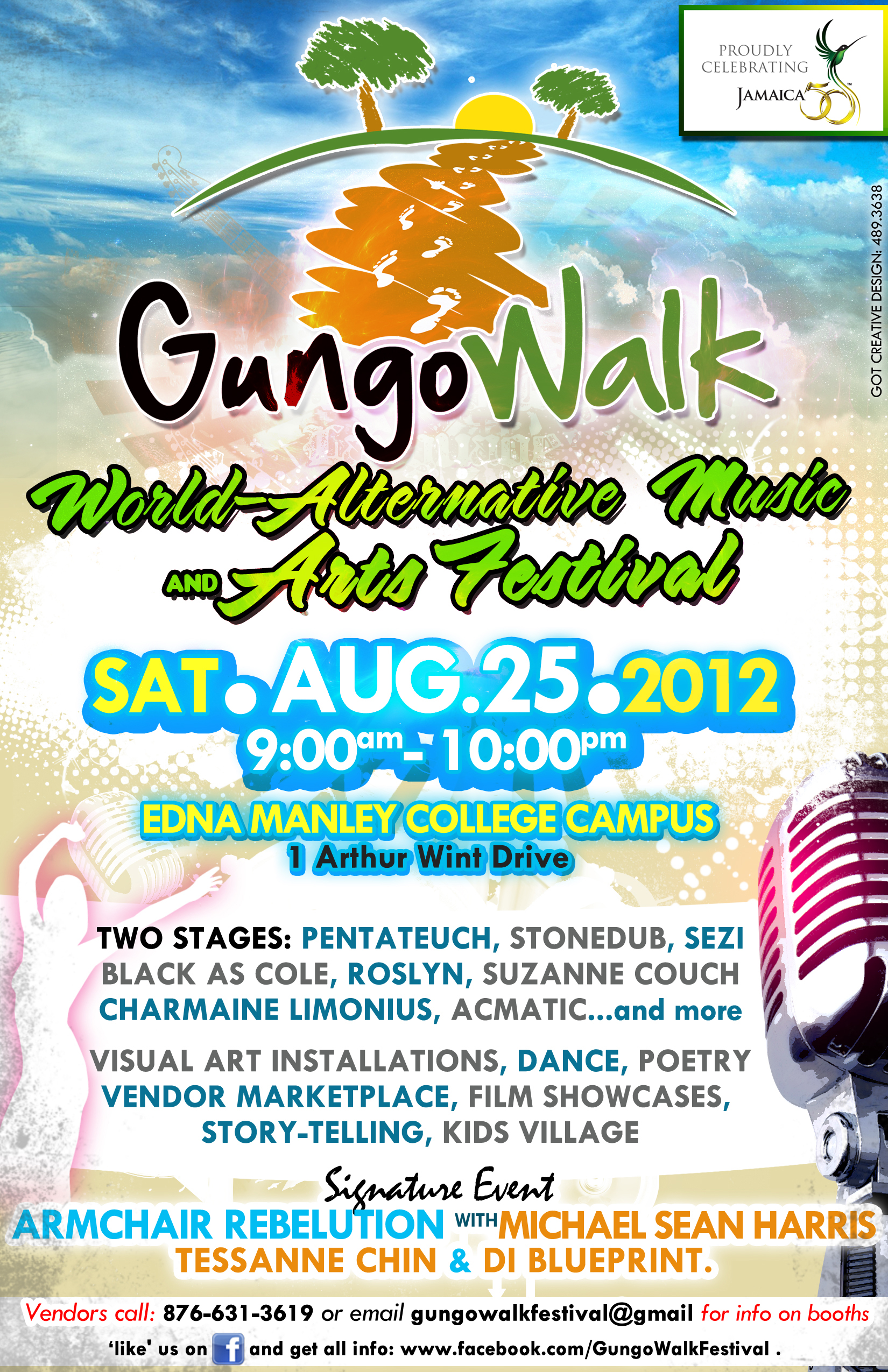 Saturday, August 25, 2012 at the Edna Manley College campus from 9:00am – 10:00pm, Joy Mechanics in association with the Edna Manley College of the Visual and Performing Arts (EMC) presents Gungo Walk World-Alternative Music & Arts Festival, an official Jamaica 50 event.
Its only $100 to enjoy this wonderful experience.
The EMC campus will come alive from 9:00am – 10:00pm, closing out with signature event "Armchair Rebelution" featuring Michael Sean Harris & Devices with guest performances by Tessanne Chin, Di Blueprint, Randy McLaren and Roslyn.
Other performers that will be featured throughout this one day festival on the two Gungo Walk stages include SEZi, Stone Dub, Suzanne Couch, Acmatic, Sky Grass, Black Zebra, Charmaine Limonius, Black As Cole, Mystikal Revolution, One Drop Routz, Pentateuch, Uwi Pop Society, Earthcry, Tribe Sankofa and others.
Theatre groups and poets include, Quilt, Tableaux, Dub Master Lynch and more.
Come and enjoy the Vendor Marketplace featuring art and craft, jewellery, food, clothing, skin care, books, etc.
There will also be art installations, film showcases, outdoor dance community, stor-telling and more.
This is a family event so bring the children and let them enjoy the Kids Village.
"Armchair Rebelution" tickets cost $1000 and can be sourced at the Edna Manley College School of Music administrative office. (Armchair Rebelution ticket holders enters the festival for free).
For more info, vendor/booth inquiries and more email gungowalkfestival@gmail.com or call 876-438-3806/876-631-3619.
For more info see facebook or gungowalk.lms.com
SEE YOU THERE!!!