Burns Night Featuring Scottish Dancing in Kingston January 21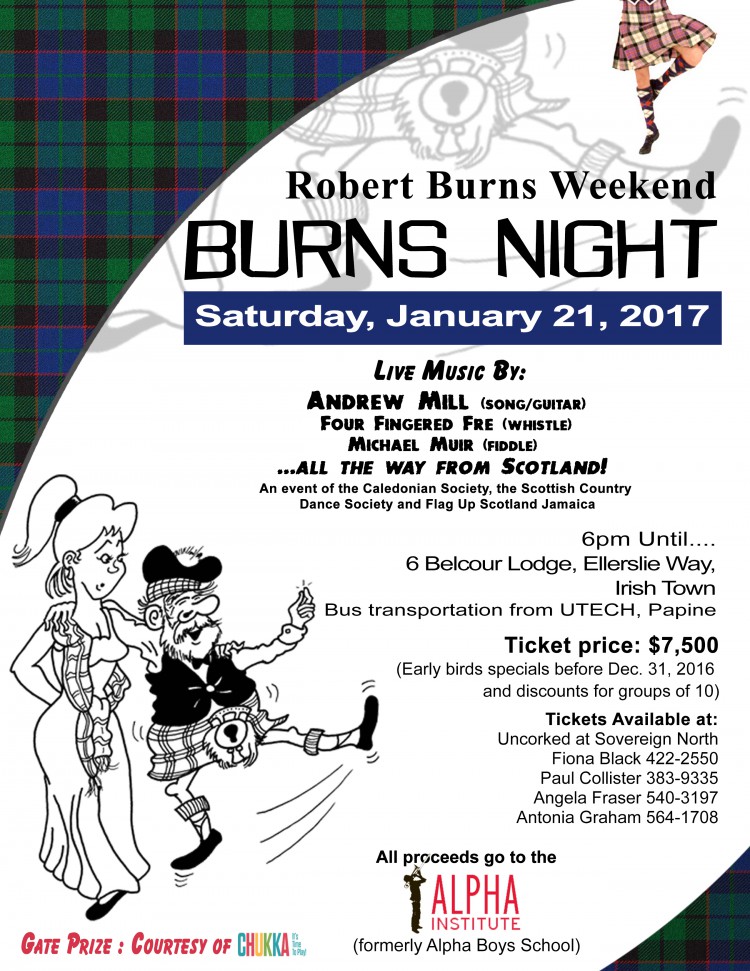 Burns Night is the traditional Scottish celebration of renowned poet, songwriter and romantic, Robert Burns.
Whisky is always included in the offering and this event will be the same.
Three Jamaican-Scottish groups have come together to make this a fund raiser for Alpha Institute (formerly Alpha Boys School). The groups are a mouthful: Caledonian Society of Jamaica, Scottish Country Dance Society of Jamaica and Flag Up Scotland Jamaica!
We are flying a Scottish band here for a week and they will be working with the Alpha Institute music department at this and one other event.
On Friday January 20th at 4 pm we have a free Music and Dance Workshop in Emancipation Park.
The Burns Night will be focused on the music and dance but will include some of the traditional tributes to Robert Burns with the 'Address to the Haggis', 'Selkirk Grace' and 'Immortal Memory'.
The food will include the traditional Cock O'Leaky broth, Haggis and trifle for dessert but will also have some heavy hors d'oeuvres to sustain a healthy appetite.
Parking is limited at the venue and we ask guests to use the bus shuttle service from UTECH, Papine.