Artopia- A Celebration of Art and Music on This Weekend!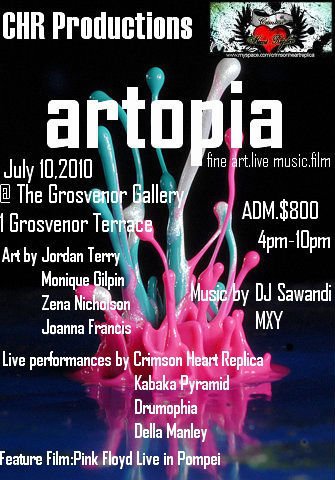 Artopia, being descriped as "a vast cornucopia of artistic expression for those who value the true meaning and endlessness of creativity" is being held this Saturday at Grosvenor Galleries starting nice and early at 4pm.

Art on display will include works by Jordan  Terry, Monique 'Mogi' Gilpin, Zena Nicholson, and Joanna Francis.
Music by DJ Sawandi and MXY.
Live Performances by Kabaka Pyramid, Crimson Heart Replica, Drumophia, Infinity, Della Manley, and Mario Evon.
Films Flyod Live in Pompei will be shown.
Jewellery on sale by Alemgems and Firefly Boutique
Piercing Lounge w/ Piercings by A-Wire
J!nk Clothing on sale
Admission:$800
You won't want to miss this!