2010 Grammy Award Winner Dobet Gnahore in Concert
2010 Grammy Award Winner Dobet Gnahoré will be in concert on Sunday, October 23, 2011 at the Philip Sherlock Centre, starting at 6pm.
Dobet Gnahoré is a singer, dancer and percussionist from the Ivory Coast and the 2010 Grammy Award Winner for Best Urban/Alternative Performance.
The event is presented by The Alliance Francaise in association with The Jamaica National Building Society and with the sponsorship of The Spanish Court Hotel, The Gleaner Newspaper and Radio Jamaica.
Also featured on the concert will be Jamaican musician Maurice Gordon.

The 29 year-old Gnahoré is widely acclaimed as one of contemporary African music's most exciting new talents.
This concert falls fittingly at the close of Heritage Week and during this the International Year of People of African Descent.
Get your tickets now and be a part of this exciting one-night-only performance in this intimate setting.
Call the Alliance Francaise now – 978-6996 – or purchase at JNBS (New Kingston office) or Reve Jewellery at Devon House – $2000 and $1000 for members of the Alliance Francaise.
Please feel free to call me for more information – 978-6996
Tickets are available at the Alliance Française de la Jamaïque, 12b Lilford Ave, Kgn 10; JNBS, 10-12 Grenada Crescent, New Kingston and Rêve Jewellery & Accessories, Shop 14 Devon House.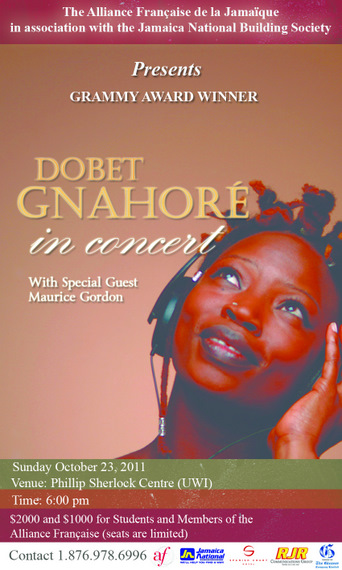 Tickets cost $2000; $1000 for students and members of the Alliance française.
Seats are limited so get your tickets NOW. Hesitate and you just might miss out.
Dobet promises an electrifying experience that you will not want to miss!