Jamaican photographer, Monique Lai, talks about when fashion meets construction
Monique Lai is a Jamaican photographer living in Brooklyn, NY. YardEdge talks to Monique about her passion…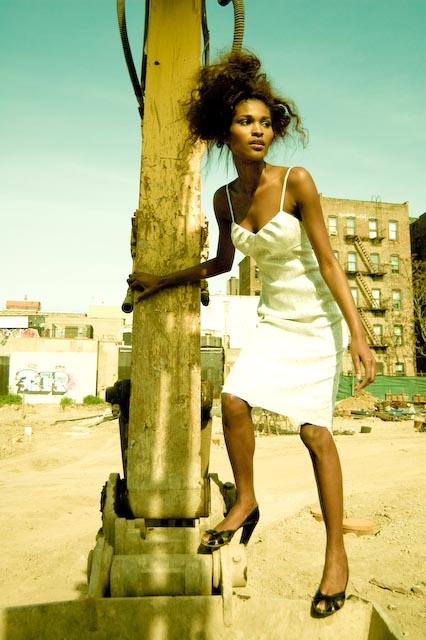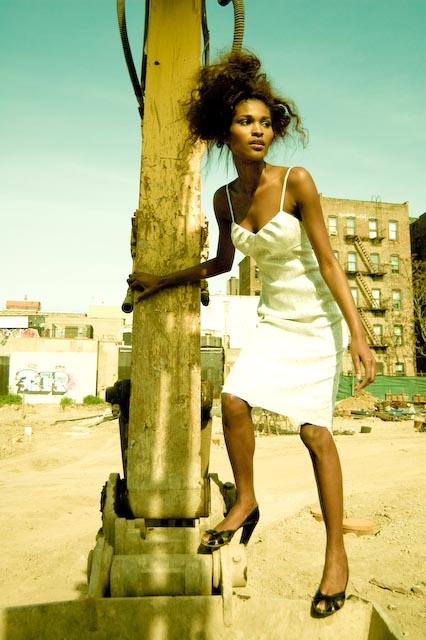 YardEdge:Why are you a photographer?When did you first realize that you wanted to become one?
Monique:… very early on, I knew I had an eye, and I think I wasn't ready for a very long time.
I only started shooting towards the end of October 2005.There are people you meet that will discourage you from pursuing your dream and for me I didn't stand up for myself until I knew I had something different to say or show.
To be an artist you obviously have to be aware of your concerns and of what you want to talk about.For me, the environment and our ever-changing landscape was something that I needed to talk about.That October, I picked up my camera, and chose a Sunday to go shoot.And I knew exactly where I was going.I shot 3 rolls of film as a test.Within a couple of weeks, I sold my environmental "series of 5".Soon after, I landed an assignment to shoot for a magazine, and my image of BB King "You" was sold.It was then that I felt validated that someone was willing to purchase and show my work on their walls.
There are many photographers and artists but very few walls that people would be willing to see your work on an every-day basis.So I am very humbled by this because I was shooting in order to receive assignments.But when I showed my book, people were more interested in purchasing my work.
A client wanted an 8ft (vertical) piece, of "over-development" in their vacation home, and she told me that my image would be the only thing hanging on the 14ft wall, and that there would be no furniture in front of it.It would be a showpiece.… it feels really good to know that what I have photographed, means a lot to someone else.It is special because I feel like I photographed that image especially for that person. This person fell in love with it the moment she saw it, and when I see a reaction like that, I know this work that I do, is important.She told me she had been looking for a special piece for over 2 years.
My most humbling feeling however was when I had signed and given "reflection" to someone who truly loved that piece.He rang me to say how much he loved the piece, and that it was framed and hung beside a Julius Shulman photograph.I was speechless excited and so touched by that gesture.That moment by far meant everything to me.It keeps me motivated to know how much my work means to people, and that is what has kept me going.
YardEdge:How would you describe your work?
Monique:My work is more of an observation, and based on emotion and feeling.I think my images have character and personality.And I only take an image that speaks to me.So, my shooting style is very fast and non-technical.The ones I tend to use are taken within the first 3 shots, so my framing of an image is very specific.
YardEdge:How did you develop your skill?
Monique:… I believe that being raised in Montego Bay played an integral part in refining my eye.I love nature and colors, and I developed a sensitive eye towards mood and feeling.My travels abroad to Hong Kong and China at a very young age blew me away, and I think it's because of that added perspective and exposure that have allowed me the courage of sight.I learned really early on that what I see is different from what everyone else saw.That could be because I'm an artist, but I think speaking Chinese or another language obviously expands our minds and thoughts.
YardEdge:What other photographers have influenced you and how?
Monique:Helmut Newton and Julius Shulman have been incredible influences in my work.
Newton is known for presenting strong erotic images showcasing the female in power.There are some nude photographers that showcase images that we might feel uncomfortable looking at, but what I love about Newton, is that we can look at his images without feeling we've disturbed the subject.
I love architecture and construction and the godfather of beautiful design is Julius Shulman.With lines he is able to conjure up an image that we as a viewer would like to see.That is difficult to emulate because for some architectural photographers the image is just a house, but with a Shulman shot, the house becomes a character and a personality in itself, and we cannot stop marveling at the simplicity of the image.
YardEdge:What other interests do you have outside of photography?
Monique:Directing is my number one passion.Photography is the foundation of motion picture.I think it's important to understand an impact of a still image.They say a picture is worth a thousand words, and I believe that.With directing film, the images are moving, and it's worth knowing how to direct an actor and to create composition in your frame that facilitates the story.Hence, I love being behind the lens.
YardEdge:What inspires you?
Monique:… people inspire me.In my travels no matter where I am, there are people out there I see, who have no hope, no desire, and no passion, and that troubles me, because I feel we've been given the beautiful gift of life, and to not live it or experience it, is devastating.
Art has a hidden meaning and the ability to speak to people.
YardEdge:Do you enjoy doing photography as a "business"?
Monique:As a business, like most other art forms, it is difficult as my work is a form of self-expression.As a freelance photographer I have to find the work on my own, or people find me through word of mouth.I enjoy meeting and working with the clients directly.The best part is presenting the work.Sometimes, I feel like I should hold back, but most clients who hire me for a job, expect something different, so I am given carte blanche, the artistic freedom to do what I want and I am very appreciative of that.
YardEdge:How have you handled the business side of being a photographer?
Monique:I did go to business school at FIU, so I am well versed in that arena thankfully.But I also have Khodr Cherri who I consult with whenever I land a new assignment.It is important to surround yourself with a core team, and so far, I have been very lucky to work with talent that is available to me.
YardEdge:How do you like living and working in the US?LA vs. NYC?
Monique:I've enjoyed both the east and west coast.With each region you never know who you're going to meet.
Los Angeles is tough and I remember going to my lab in November 2005, and telling Khodr Cherri (my right hand go-to person), that I can't wait to have my first photography show.He kindly told me, that he's met many talented photographers and on average it takes 8-10 years for anyone to get a show.I just smiled and said it would take me less time.He was the first person I rang to say I got booked for a 2-floor show of my work "Private Property" at the ArcLight Hollywood.It took me 15 months.Los Angeles for me was a place where I was able to find myself, and my eye.It gave me the confidence to move to New York, which has always been my dream.I felt ready after my show.3 months later, I left Los Angeles for the Big Apple.
In New York, I want to shoot Fashion campaigns with a fine art edge to it.I photographed a special feature showcasing Albanian fashion designer Shpetim Zero.… my photography notecards and postcards are being sold at PowerHouse and PS Bookshop in Brooklyn.And I'm in talks to shoot some great assignments.
YardEdge:Any plans to work/live in Jamaica?
Monique:I traveled home to Jamaica to shoot twice in 2007.I'm hoping to return this year too. I would love that.
YardEdge:How would people who know you describe you?
Monique:… They would say I am very particular and my taste level is very high.
I think it's important to deliver work you are proud of, especially if it has your name on it.I'm not fond of people handing me sloppy work, so they learn really quickly that if you don't like what you did, don't waste my time in presenting it to me.I like people who care about their work.And I learned that really early on at Mt. Alvernia Prep.That really set my bar high, so in that respect when people see me, or my work, they expect that I gave it my all, and it is something unpredictable, and different.
YardEdge:If you could be doing anything you wanted, what would that be?
Monique:(1) Relax and shoot at Golden Eye in St. Mary.(2) Go swimming at Doctor's Cave Beach.
YardEdge:Last book you read?
Monique:Bid Time Return by Richard Matheson
YardEdge:Last CD you bought?
Monique:… The Best of Paolo Conte
YardEdge:Favorite movie?
Monique:… I see films usually based on directors.JPatrice Leconte, Francois Ozon, Karan Johar, Satoshi Kon, and Hayao Miyazaki are incredible story-tellers.
YardEdge:Any regrets?
Monique:… as an artist, we unfortunately make a lot of sacrifices.Sometimes we're not able to go to friends' birthday parties/events, or we miss out on special family functions.It is hard to balance, and it takes a lot of work to let friends and family know that I love them and to not to take it personally when I can't be available.
YardEdge:Final thoughts?
Monique:My favorite quotes:
Monique:(1) Many of life's failures, people didn't know how close they were, when they gave up.
Monique:(2) Take the first step in faith. You don't have to see the whole staircase, just the first step.Martin Luther King Jr.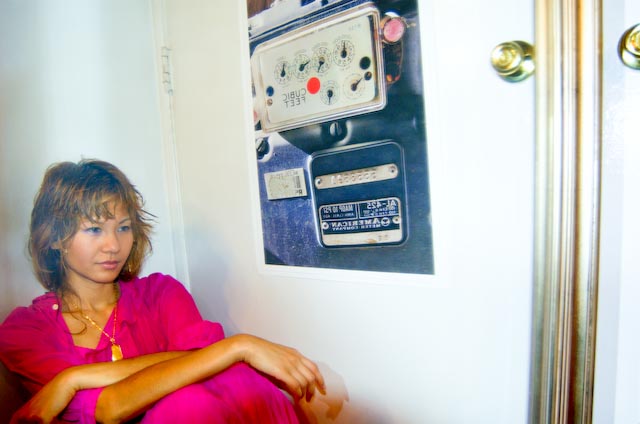 You can contact Monique via her website at www.moniquelai.com.