The Top Dub Albums Of All Time (Part 2 Of 3)
This is part 2 of a 3 part post. Part 1 can be found here.
Treasure Dub (Treasure Isle) 197-something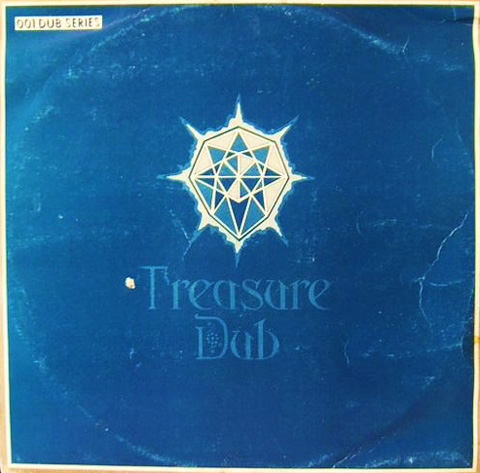 An austere cover from the "heavy manners" period of the 70s
Dub as a musical technique did not really emerge on the Jamaican scene until roughly 1972, although proto-dub was appearing prior to this in the form of instrumentals featuring additional instrumentation and vocal snippets (think "Pop a Top"
by Andy Capp). As a result, the dub versions of songs from the rock-steady era of 1966-1968 did not appear until afterwards, and resulted instead from producers returning to their earlier material to re-package it for contemporary tastes.

Treasure Dub was a result of this- producer Sonia Pottinger had bought the Treasure Isle catalogue of classic rock-steady tracks (and possibly the studio as well, although the historical references are unclear) from Arthur "Duke" Reid after his diagnosis with cancer in the early 70s and together with Reid's nephew, engineer Errol Brown, had given the dub treatment to a number of the more popular songs contained therein. The result is an instant classic, as the already haunting vocal harmonies take on new life in the echo chamber. Brown's mixing style is not overbearing, he lets the already strong riddims speak for themselves, and gives the listener just enough vocal snippets to remind them of the original versions.
» "Pauper A Dub" = Dobby Dobson "Loving Pauper
" 1967
» "Construction Dub Style" = John Holt & Slim Smith "Let's Build Our Dreams
" 1971 – the a cappella moment of Slim Smith's lead vocal presented here is possibly the standout moment of this collection… "Oh you must understand, if you want to be a better man, you've got to fight harder every day."
» "Dub So True" = Ken Parker "True True True
" 1967
» "Arabian Dub" = John Holt "Ali Baba
" 1969
» "Dub I Love" = Alton Ellis "Baby I Love You
" 1967
» "Willow Tree Dub" = Alton Ellis "Willow Tree
" 1968
» "Touch-A-Dub" = Phyllis Dillon "Don't Touch Me Tomato
" 1968
» "This Yah Dub" = The Sensations "Those Guys
" 1968
» "Everybody Dubbing" = The Melodians "Everybody Brawlin
" 1969
» "Moody Dub" = The Techniques "I'm In The Mood For Love
" 1968
» "Dub On Little Girl" = The Melodians "Come On Little Girl
" 1966
» "You I'll Dub" = The Techniques "It's You I Love
" 1968
Buy the downloads from Amazon

:
» Treasure Isle Dub – Vol 1
More in Part 3 of this post…