Farenheit's "Hit 'Em" Featuring Sean Paul & Jigzagula Now On iTunes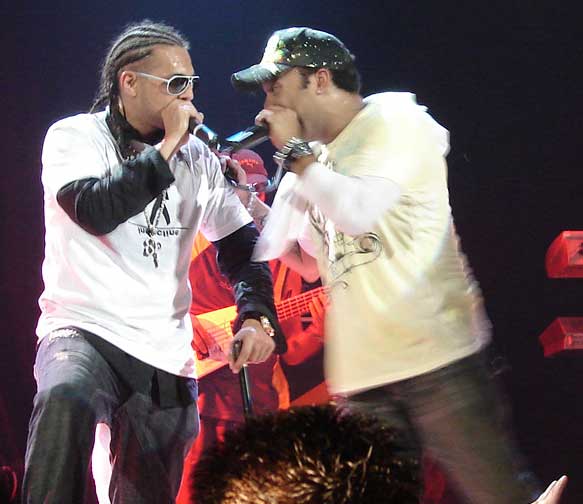 Sean Paul & Farenheit
Buy "Hit Em" on itunes
Jamaican dancehall soul singer Farenheit released his latest single "Hit 'Em" featuring Sean Paul and Jigzagula on iTunes on May 20, 2008. Produced by Grammy-nominated producer and remixer Josh One of Nappy Roots fame, "Hit 'Em" is an old fashioned jeep-beat that marries dancehall melodies to a hip-hop drum track.
"Hit 'Em" features Sean Paul as Farenheit's partner in crime and introduces Sean's brother and co-writer Jigzagula, producing a sure fire club and radio hit.
Jigzagula had this to say, "It was a great experience working on "Hit 'Em" with Farenheit and Sean Paul, we always have great chemistry on stage and on tour. We write lyrics and come up with all kinda chat that becomes our new slang. So it was nice to see an actual recording come out of all the vibes we've built up together throughout the years. Not to mention it's the first track where I've actually written and performed my own verse, opening up a world of possibilities and ideas for myself as an artist."
Born and raised in Kingston, Jamaica, Farenheit has been performing and recording music around the world for over a decade. His unique blend of styles has been dubbed "dancehall soul" and has earned this singer/songwriter features on the cover of Billboard, in Vibe magazine, and at the Midem music conference.
As backup singer and hype man for reggae international superstar Sean Paul, Farenheit has performed in front of millions of people worldwide, and has appeared on numerous television programmes, including The Tonight Show with Jay Leno, the Late Show with David Letterman, and Jimmy Kimmel Live!
Farenheit recently concluded a successful tour of the US west coast. He has also completed tracks with reggae superstar Sizzla and up-and-coming urban sensation Jeannie Ortega. Farenheit is scheduled to perform across Europe this summer.
Released as a joint project between the Mystic Urchin and Rebelmix labels, "Hit 'Em" is being distributed worldwide on the Apple iTunes Store as well as other leading digital retailers including the Microsoft Zune Marketplace, Rhapsody and Amazon.com. Ringtone and ringback tones will also be available.