The Afflicted Yard Presents Movies They Never Show in Jamaica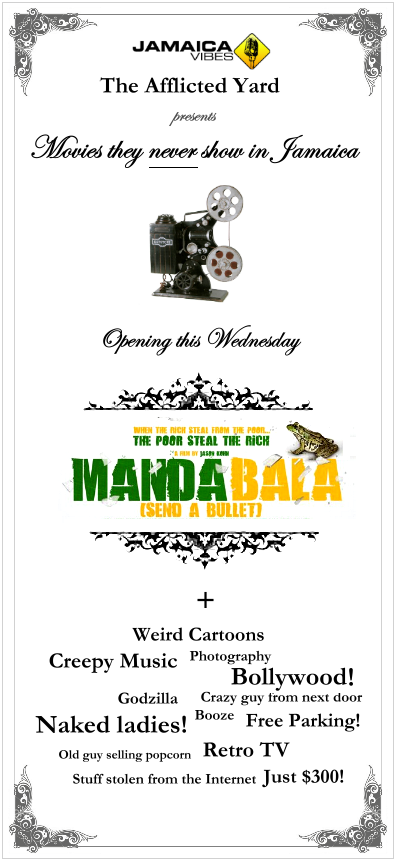 The Afflicted Yard Presents…
Jason Kohn's acclaimed documentary Mandabala.
Mandabala is a visually stunning film with an equally impressive soundtrack that uses dark humour and beautiful cinematography to explore the various facets of kidnapping in Sao Paulo and its effects on people and businesses there.

The film won top honours at the 2007 Sundance Festival claiming the Grand Jury Prize for Best Documentary as well as winning for Excellence in Cinematography for a Documentary.
PLUS in the words of  The Afflicted Yard, "Short Films + Really Weird Cartoons + Retro TV junk + The crazy guy from next door + Naked ladies! + Bollywood! + Godzilla fights + Cheap booze + Creepy Music + Photography + The UNEXPECTED.
Weird stuff starts rolling at 7:30..film at 9pm"
Weekendz, 80 Constant Spring Road.
"Contribution" $300 JA
After the show, head over to Fiction for Brand New Machine!