Up and Coming Artists: the Best and the Brightest
YardEdge's guest blogger, Petrine Archer-Straw profiles some of the up and coming young artists to watch on the local scene: Oneika Russell and Lawrence Graham-Brown.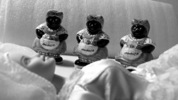 Oneika Russell- Untitled, The Stills from a Fictional Film Series, 2007
Oneika Russell
Oneika Russell is currently in Japan working on a new film related to the middle passage, the sea and slavery. She's a digital artist with wry humour creating short films that parody her own life and speak to the condition of women in the Caribbean diaspora.

Her interest in art history has allowed her to explore contemporary issues while still referencing historical and fictional characters such as Manet's Olympia, Ophelia, Aunt Jemima and her own dance-hall alter ego.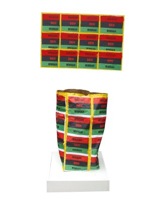 Lawrence Graham-Brown -The Package, 2007
Lawrence Graham-Brown
Lawrence Graham-Brown is a Jamaican artist living in New Jersey, USA who has been exhibiting in Jamaica since the 1990s. His work is stridently race conscious, wrestling with issues related to Black and gay self-hatred, Black-ness, Jamaican-ness, African-ness, sexuality, class and religion.
He achieves all this through a self-taught direct style that calls on Rastafari and Garvey symbolism. Because of the strident nature of his works, they have occasionally come under institutional scrutiny and censorship. This is symptomatic of the Caribbean's patronage that supports art but is still coming to terms with issues of identity, and the very self hatred that Graham Brown's work contests.
But Graham-Brown's work is unrelenting and as our middle classes become more informed about race issues, his work gains greater acceptance.

Petrine Archer-Straw is an art historian, lecturer and curator who currently teaches in the Department of Art History at Cornell University.  www.petrinearcher.com