Talent Abounds At 2010 Liguanea Art Festival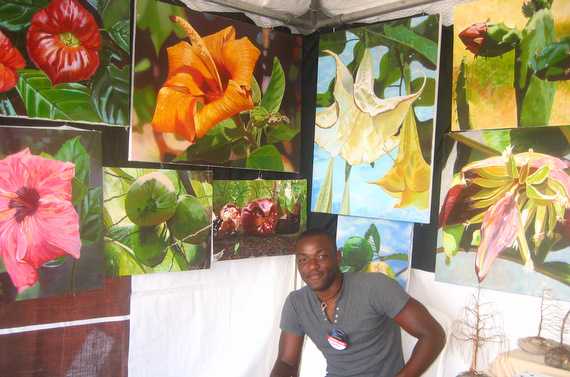 Despite the heat, art lovers turned out for the 2010 Liguanea Art Festival on Sunday, which showcased approximately eighty artists this year.
This was the seventh year of the festival, staged by Tony and June Wong, and again featured some of Jamaica's best ceramists, artists, photographers, jewellers and sculptors. The Liguanea Art Festival is Jamaica's largest outdoor art festival and patrons were treated to a wide range of fine art from both up and coming artists as well as established veterans. This year saw a particular focus on the newcomers, who in the words of the organizers "represent the future of Jamaica's visual art scene".

A higher turnout of jewellers this year was highlighted by the work by Andy Golding and her Mermaid's Tears line. She uses a mixture of sea glass and sea pebbles for her jewelry and her work is beautifully hand crafted and truly unique. Golding believes that more artists need to work in local materials in order to expose persons to the wealth of beautiful objects that surround us right here in Jamaica.
Once again, the event was well organized and the art of a high standard. The booths were well labeled and  patrons were able to interact with the artists. There were workshops for kids and musical entertainment provided by the Akwaaba drummers.
Congratulations to the organizers and sponsors once again for a job well done.