Captain Joseph's Treasure Beach Adventures – Boat Tours With a Difference!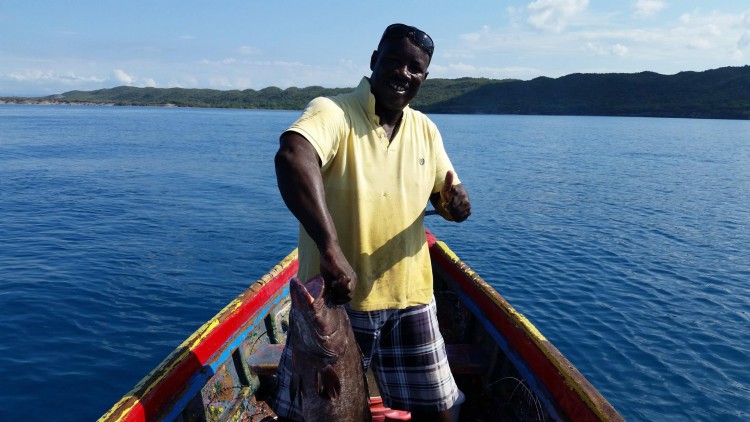 Looking for something fun to do in Treasure Beach?
Here are some great photos from Captain Joseph Brown's boat tours which will give you a good idea of what the Captain Joseph's Treasure Beach Adventure experience is all about. 
Captain Joseph offers a range of boat tours including his Kingfish cookout on a private beach, a trip to Pelican Bar (a bar out in the middle of the sea), a tour up the Black River (a beautiful river and home to lots of alligators)  among other options.
The Captain Joseph experience includes spectacular views of Jamaica's south coast and Jamaican wildlife especially dolphins, alligators and tropical birds; not to mention delicious Jamaican food – can't beat fresh lobster! Captain Joseph is warm and charismatic and 100% dedicated to providing you with a "wow" experience!
Treasure Beach is located on Jamaica's south coast, and is known for its laid back vibe and its own unique brand of community tourism and Jamaican hospitality.
Here's a sample of a Tripadvisor review from August this year:
"Captain Joseph is FANTASTIC! If you have the opportunity to visit Treasure Beach, reach out to Captain Joseph…you will not be disappointed. My family traveled the end of July/early August (2016) and scheduled several outings with Captain Joseph – kingfish cookout/pelican bar, black river tour, YS falls as well as our airport transfers. My husband and I had the pleasure of meeting Joseph several years prior and knew when heading back with our children, Captain Joseph's adventures were a must! Joseph is extremely knowledgeable regarding TB, he is friendly and very kind. If you are fortunate, you will meet his family as well (wife and boys) – equally lovely. The kingfish cookout/pelican bar was the family favorite – private beach, swimming, relaxing and eating some of the tastiest food we had while visiting TB – finishing the day at the pelican bar…this trip is awesome!
Joseph will make every accommodation necessary to make certain your trip is filled with a lifetime of memories!"
Check out more reviews on Tripadvisor: www.tripadvisor.com/Attraction_Review-g635963-d6857295-Reviews-Captain_joseph_treasure_beach_adventures-Treasure_Beach_Saint_Elizabeth_Parish_Ja.html