10 Absolutely Must Do Things In Portland – Part 1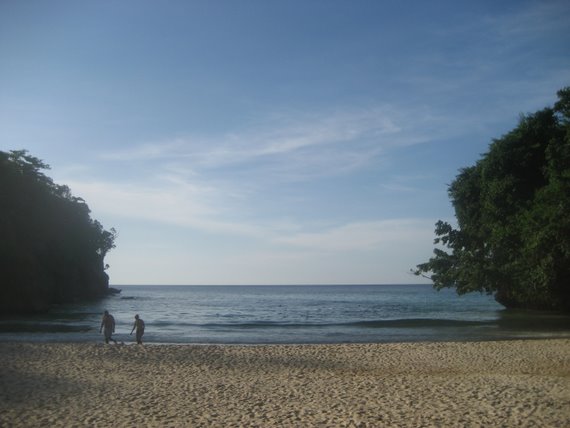 Portland, with its mixture of lush green countryside and beautiful beaches, rivers, caves, hills and waterfalls, is one of my favourite parishes in Jamaica. There are so many amazingly beautiful places to go and things to do in Portland that this was a hard list to come up with but here's my attempt at identifying the top 10 absolutely must do things in Portland. Your suggestions are welcome!

A little bit about Portland
Not many parishes offer the variety of experiences that Portland does. The parish extends from the highest peaks of the Blue Mountains, 7,402 ft above sea-level, down to the north coast, and is known for its rich history and varied scenery, including little islands, caves, bays, rivers, waterfalls, hills, beaches and villas.
There are at least fourteen caves in Portland, including those at Buff Bay, Orange Bay, Hope Bay, Port Antonio, Boston Bay, Long Bay, Innis Bay and Nonsuch. There are also 17 rivers, the largest three being the Rio Grande, Buff Bay and Hectors Rivers. Portland has the highest level of rainfall in the island, which helps explain how it maintains its lush greenness throughout the year.
Port Antonio, the parishes' capital, has two harbours, with the western one being home to Navy Island, once owned by Errol Flynn. Portland is Jamaica's seventh largest parish with a population of approximately 82,000, 15,000 of whom live in Port Antonio.
10 Absolutely Must Do Things In Portland
1. Swim in the beach and river at Frenchman's Cove. Frenchman's Cove is undoubtedly one of the most beautiful and famous beaches in Jamaica, known for its isolated scenic cove and fresh water river emptying into the sea (which makes the sea water colder there than at most other beaches in Jamaica). Frenchman's Cove, however, is also a 45 acre resort with one, two and three bedroom villas available to rent scattered along the cliffs and around the property. Once a popular hangout spot for the Hollywood "rich and famous" in the 1960's, its guests included Elizabeth Taylor and Richard Burton. Today Frenchman's Cove is home to mainly European tourists and locals who value the quiet scenic beauty of Portland. Frenchman's Cove beach was recently featured in the movie Knight and Day starring Tom Cruise and Cameron Diaz.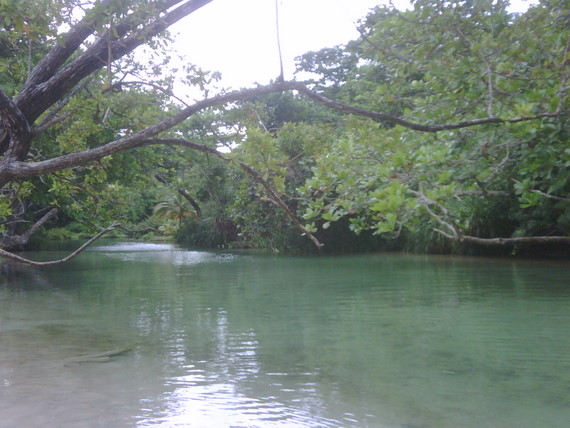 ---
2. Dive into river pools at Reich Falls. Reich Falls is another of Jamaica's amazingly scenic rivers cum waterfalls, but is less well known than the famous Dunn's River Falls in St. Ann, and therefore much less crowded. The main waterfall is about seven metres high and twenty metres wide with a large natural pool (great for swimming) and a cave (hidden by the waterfall) at the bottom of the falls. You can also climb to the top of the falls and jump into the pool below, or take a trek higher up the river, although a guide is recommended for both. Now managed by the UDC, there are stairs all the way down to the river as well as toilets and changing facilities. Parts of the Tom Cruise movie Cocktail were filmed there.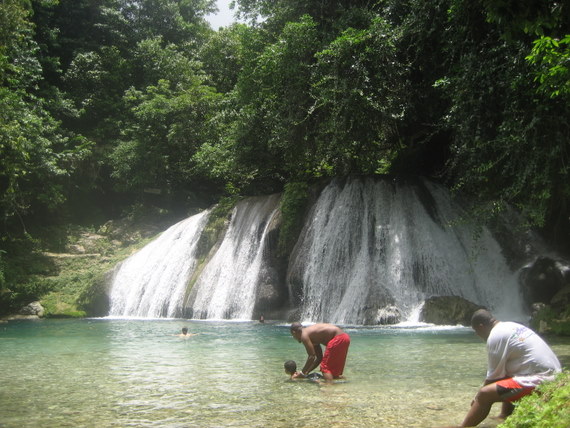 ---
3. Go rafting on the Rio Grande. Rafting on the Rio Grande, one of Jamaica's largest rivers, is one of the most peaceful and relaxing experiences you can have while in Portland. Rafting was first popularized by Errol Flynn in the 1950's while Flynn was living in Port Antonio. Bamboo rafts were originally used to transport produce, especially bananas, from the interior of the island to the coast but now these 20′ rafts are used mainly to transport tourists downriver through the beautiful Rio Grande Valley. Rio Grande rafting provides gorgeous views of Jamaica's interior. While rafting, you can also go swimming, eat lunch, or just relax  on the banks of the river.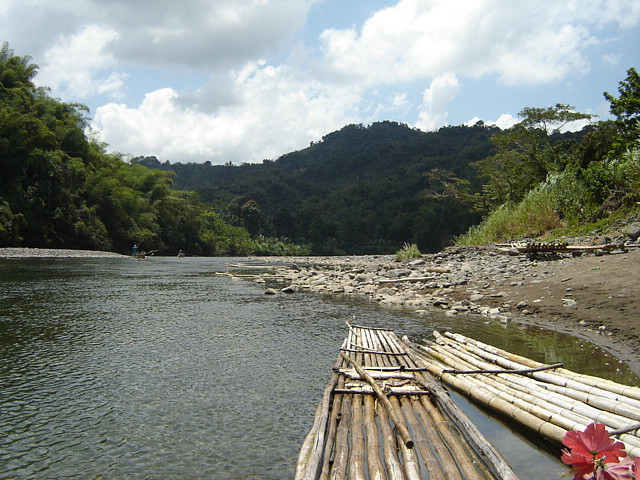 Photo by Kingston 99 used under Creative Commons Attribution-NonCommercial-ShareAlike 2.0 Generic license.
---
4. Search for the bottom of the Blue Hole. Portland's Blue Hole or "Blue Lagoon" is one of the parish's best known natural attractions. Made famous by several movies, this water hole or lagoon is fed by underground fresh water springs and is said to be bottomless but is actually approximately 200 feet deep. The lagoon features a spectacular view of turquoise colored water surrounded by lush vegetation. Rafting from the lagoon to nearby Pellew Island (known locally as "Monkey Island") is an added attraction. The attraction's restaurant has been closed for some time but the lagoon is still open to visitors and the raftsmen there are happy to take you for a ride.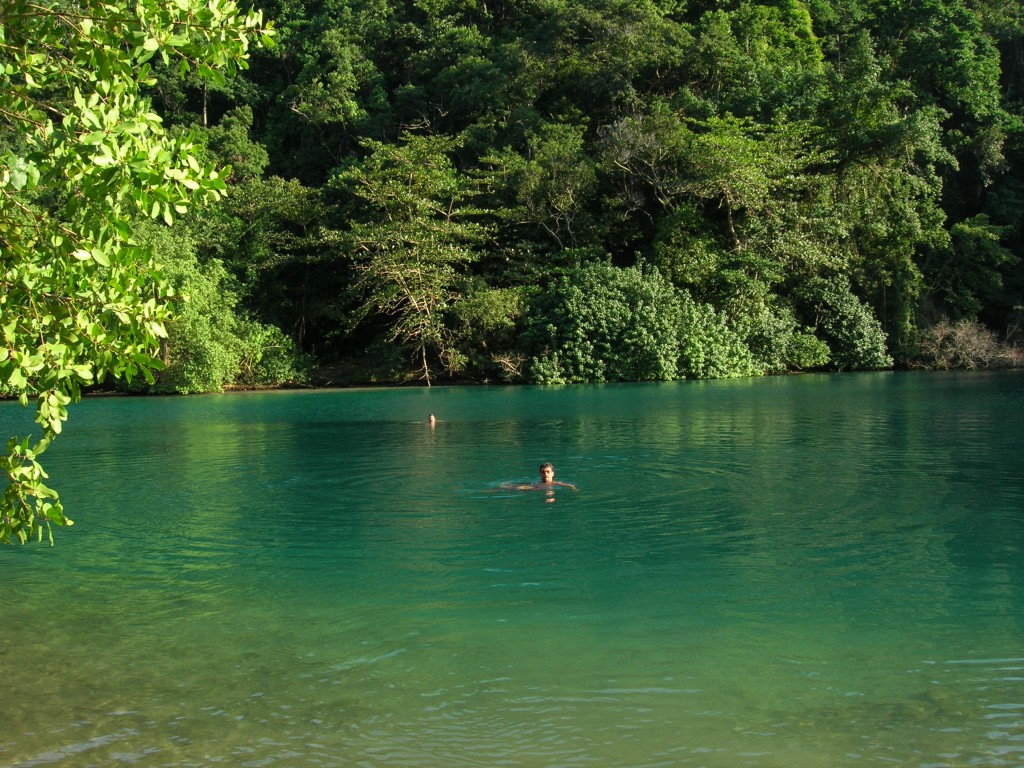 Photo courtesy of Ami Mezahav.
---
5. Have lobster for lunch at Cynthia's, Winnifred Beach. Winnifred Beach, also known as Fairy Hill Beach, is one of Portland's best kept secrets (I'm now wondering if I should keep it that way) but in all seriousness it is one of the most beautiful beaches in Jamaica. Located at the bottom of a steep hill, the beach is usually a quiet spot frequented primarily by locals, although on public holidays it can be crazy.
Photo by raisin.detre used under Creative Commons Attribution-NonCommercial 2.0 Generic license.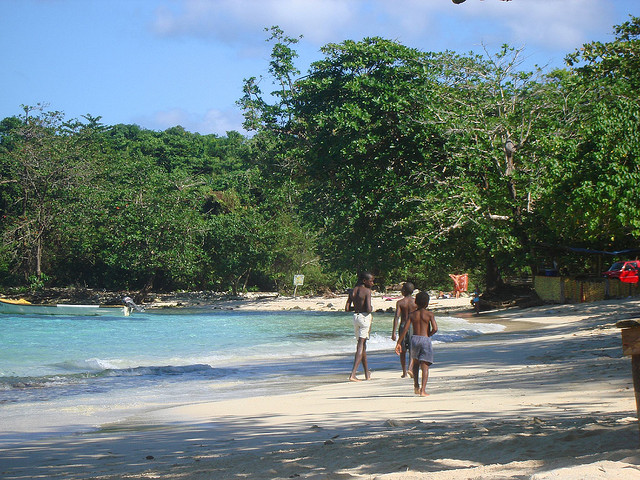 Photo by Tach_RedGold&Green used under Creative Commons Attribution-NonCommercial-NoDerivs 2.0 Generic license.
One more picture of Winnifred Beach just 'cause it's a really cool pic…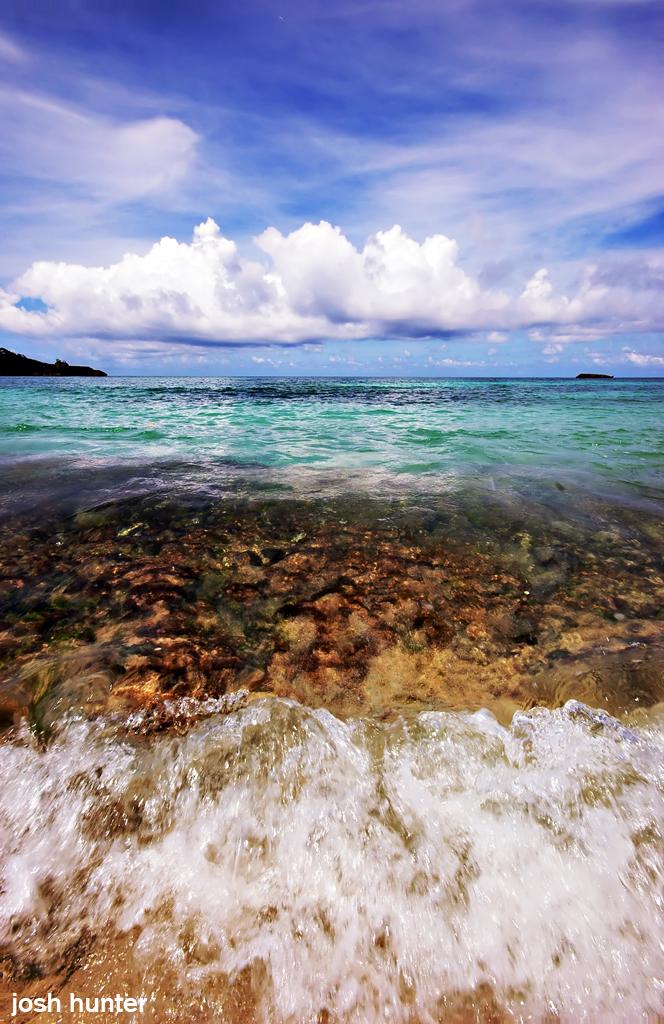 Photo by Josh Hunter used under Creative Commons Attribution-NonCommercial-NoDerivs 2.0 Generic license.
Here's the link to Part 2: http://www.yardedge.net/worth-a-visit/10-absolutely-must-do-things-in-portland-part-2