Well Heeled Jamaicans Collecting Shoes for Haiti This Weekend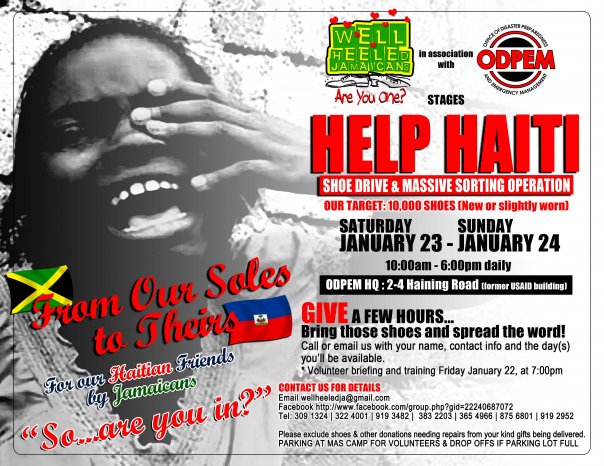 Here's a great initiative from Well Heeled Jamaicans spearheaded by Lisa O'Gilvie.  They are staging a major drive to raise 10,000 pairs of shoes for the people of Haiti. The drive date is on Saturday, January 23th and Sunday January 24 at ODPEM headquarters, 2-4 Haining Road.

They need sneakers, flat shoes, soft shoes, shoes for kids, men and women and the elderly so start searching your closets for those new or slightly worn shoes.
They also need volunteers to receive donations.
About Well Heeled Jamaicans
Well Heeled Jamaicans "From Our Soles to Yours" was founded in 2008 with a singular mission: the collection of new and very slightly worn shoes, to contribute in a small way, to the dignity of our fellow Jamaicans in need. Our last drive raised 2,000 pairs of shoes for every ward in 23 institutions.