New Jamaican Reggae Rock Band, Mojahrock, at Redbones Tonight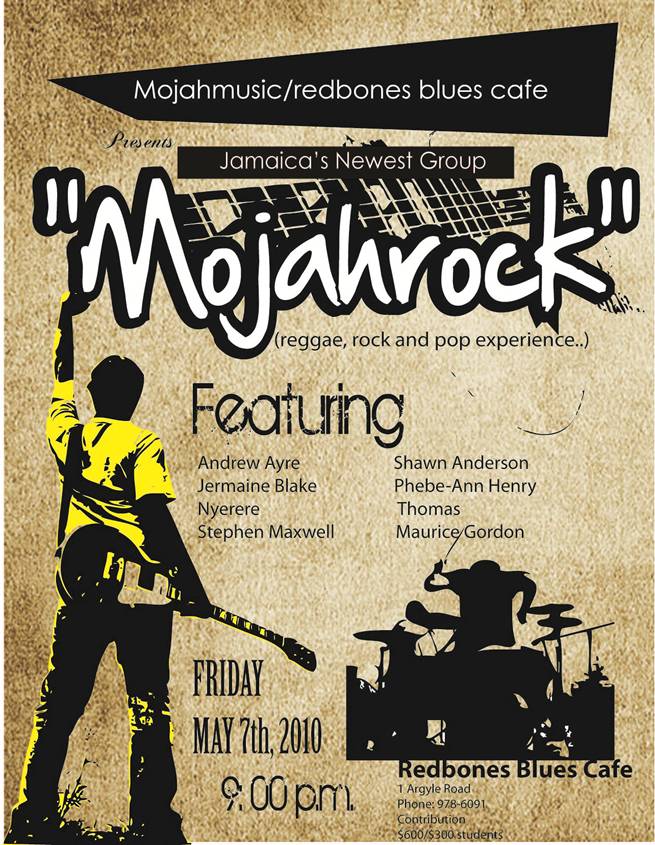 Jamaica's newest band, MOJAHROCK will make their debut performance at Redbones Blues Cafe on Friday May 7th at 8:30 p.m.
It will be an evening of roots reggae, pop, rock covers and original songs. The band features founder and leader, guitarist Maurice Gordon along with some of Kingston's finest young musicians, singers and composers: Jermaine Blake, Phebe Ann Henry, Andrew Ayre, Stephen Maxwell, Shawn Anderson and Nyerere Thomas.

MoJahrock is a group created by guitarist and teacher Maurice Gordon in June 2008 featuring some of his students from the School of Music. They first performed as THE OTHER SIDE to support his private junior students at their annual summer showcase at Redbones Blues Cafe. The current line up came together in 2009 using the the show name"De Rock" which has now evolved into the band MoJahrock.
The main mission of the group is to be a cutting edge reggae, rock and pop vocal and instrumental experience performing mainly originals and a few relevant covers songs. Musical influences include Marley, Hendrix, Santana the blues, Rand B, contemporary rock and popular Jamaican music.
The members of MOJAHROCK are guitarist, composer, founder and leader Maurice Gordon who is known predominantly as a one of Jamaica's finest jazz guitarist and teacher. He has toured, recorded and performed reggae and rock with Jimmy Cliff and Mutabaruka. MoJahrock is his premier reggae, rock and pop experience. Singer Jermaine Blake is currently in his first year doing a Diploma in Jazz and Popular music Performance at Edna Manley College. He a composer for the group and works with his family Band Total Five.
Singer Phebe-Ann Henry is a graduate of the School of Music/Edna Manley College. She is a singer and song writer. She has been active locally singing and providing background vocals for local artists live and in the studio. She has worked on several shows with Gordon. Bassist Andrew Ayre is a student of Gordon in his second year in the jazz and pop program. He has been working with Gordon along with church and other local artists.
Keyboardist Stephen Maxwell is in his final year student School of Music in the jazz and pop program. He studied classical piano before switching to the jazz and pop department. Drummer Shawn Anderson is also a student but is currently taking break from school before returning. He is active with Gordon, Nambo Robinson, Michael Sean Harris and other local acts. Guitarist Nyerere Thomas is the newest member of the group and he is in a preliminary qualifying year student at School of Music.
MoJahrock has had several successful full house performances at Redbones Blues cafe, Friends on The Deck , Jamaica Jazz and Blues Festival and Blues on The Green 2010.