First Asante Adonai Literary Lyme To be Held on Sunday May 22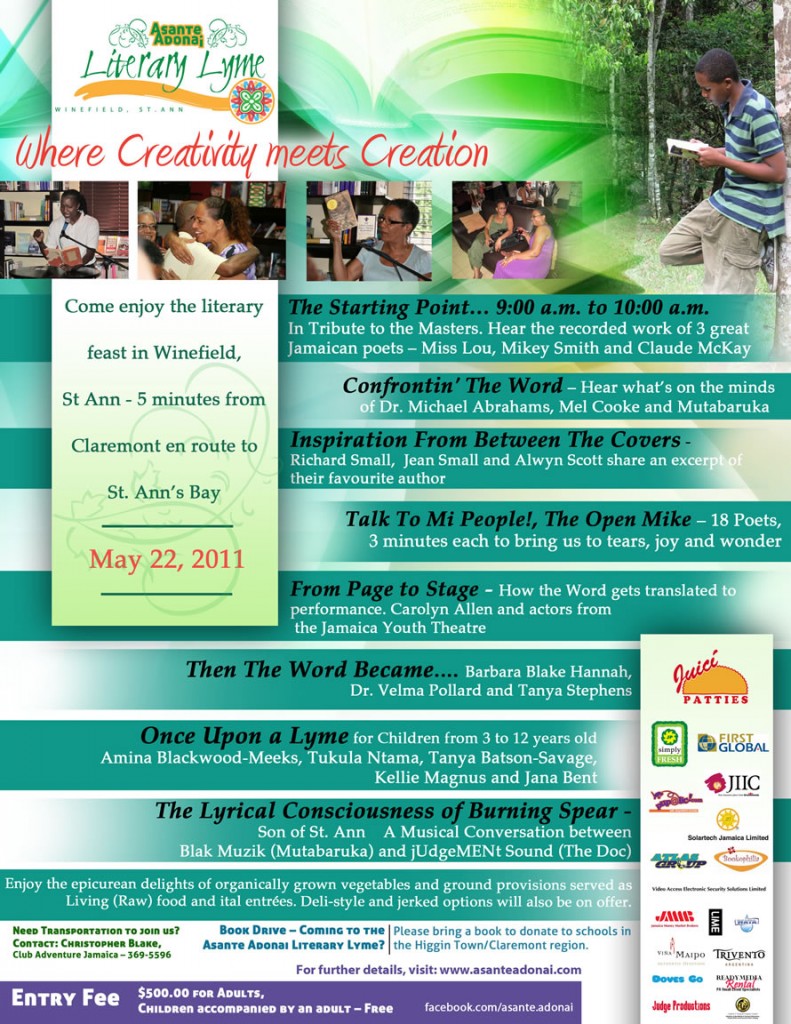 The first Asante Adonai Literary Lyme will be held this Sunday, May 22 in Winefield, St. Ann to help raise awareness of the importance of a literary culture and the importance of being well-read.
Created in the wake of Calabash's demise, the Lyme's organizer Leachim Semaj hopes it will engender goodwill and a make a positive contribution to nation building.

Guests are being encouraged to participate in the Book Drive, by bringing a book to donate to the St. Ann's Bay Library, and to "Keep it Green" by carpooling.
The programme of the Lyme is as follows:
• "The Starting Point" – Recorded works of Miss Lou, Claude McKay & Mikey Smith
• "Confrontin' the Word" – With Mutabaruka, Mel Cooke & Dr. Michael Abrahams
• "My Favourite Author: Inspiration from between the covers" – Richard Small, Jean Small, & Alwyn Scott share excerpts from their favourite Authors
• "Talk to mi people! :The Open Mike" – 18 poets perform for 3 minutes each
• "From Page to Stage" – Improv Theatre with Carolyn Allen directing performers from the Jamaica Youth Theatre & showing how the word gets translated into performance
• "Then the word became…" – With Tanya Stephens, Dr. Velma Pollard & Barbara Blake-Hannah
• "Once upon a Lyme" – For Children 3-12yrs old with Kellie Magnus, Amina Blackwood-Meeks, Jana Bent, and Tanya Batson-Savage
• "The Lyrical Consciousness of Burning Spear, Son of St. Ann" – A Lyrical conversation between Mutabaruka and Leachim Semaj
Bookophilia, the official Bookstore of the Asante Adonai Literary Lyme, will have books on sale by Authors taking part in the Lyme.
For more info, check out their website asanteadonai.com.