How Fast Can Jamaicans Really Run?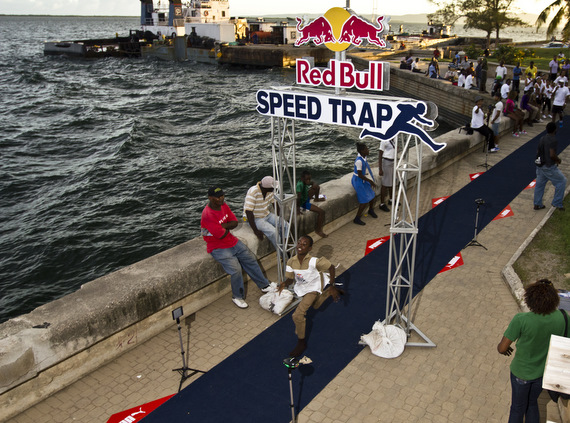 Red Bull Speed Trap takes sprinting to the streets.
Starting June 21, 2011 Red Bull Speed Trap will measure the top speed of all participants in order to find out how fast Jamaicans really run.
Jamaicans are known to be among the fastest people on earth. But the world began to take more serious note after Jamaica totally obliterated the sprints in the 2008 Beijing Olympics, bagging gold in the 100m dashes, the 200m and the men's 100m sprint at world record clocking to name a few.
But, how fast can the average Jamaican really run?

During this summer, Red Bull Speed Trap will circle the island to measure the top speed of every Jamaican that want to come out and run. A speed device will measure the top speed of each runner in the 15 metre "speed zone" and the fastest male and fastest female for each day will win a Puma goodie bag.
Red Bull Speed Trap is unlike any other running competition; all others measures time while RBST measures one's individual velocity.
David Riley, Head Coach of Wolmers Boys School, says he is excited about the innovative twist that is ingrained in the competition.
"Measuring speeds in sprinting is truly a great approach as it presents an opportunity to gather data that can be used to deduce a better understanding of why Jamaicans run so fast.
Get ready to run in the Red Bull Speed Trap nearest you!
Schedule
June 21 – Shell Gas Station – Waterloo (Kingston)
June 23 – Shell Gore Terrace – Constant Spring (Kingston)
July 5 – Courts – Old Habour (St. Catherine)
July 6 – Stoplight Wholesale – Maypen (Clarendon)
July 7 – Heavens Texaco Mandeville