The Mighty Diamonds Headline Fourth Annual Reggae Culture Salute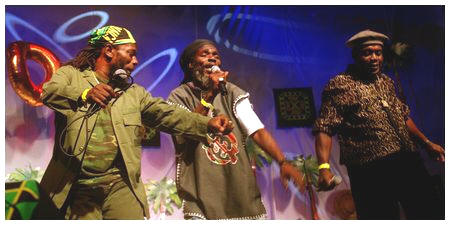 Reggae stalwarts, the Mighty Diamonds will headline the fourth annual Reggae Culture Salute on Saturday, November 1st at Brooklyn's Cultural Performing Arts Center, 1020 East 48th Street (corner of Farragut Road) in Brooklyn.
For more than thirty years the Mighty Diamonds have been entertaining and educating the world with sweet harmonies, conscious lyrics and polished performances that have made them synonymous with Rastafari and Roots Reggae.
Reggae Cultural Salute (RCS), a celebration which highlights the unique relationship between Reggae, Rasta, Selassie and Jamaica with the power and intensity of Roots Rock Reggae will also  feature the Melodians, one of Jamaica's greatest rock steady groups.
Reggae Culture Salute, which honors the 78th anniversary of the coronation of His Imperial Majesty Emperor Haile Selassie and Empress Mennen of Ethiopia, is produced by TSO Productions with proceeds to benefit the Coalition to Preserve Reggae Music (CPR) Fellowship for reggae studies at the University of the West Indies.
This showcase of Roots Reggae, suited for reggae aficionados as well as newcomers, will continue the tradition of presenting diverse stages of the genre's evolution. The fourth annual Reggae Culture Salute will feature a full screening of Stephanie Black's film, Africa Unite, about the 2005 Marley family concert held in Ethiopia in honor of Bob's 60th birthday.
There will be Nyahbinghi drumming as well performances by the original 70's D.J. Ranking Trevor and Trinidadian roots reggae artists, Khari Kill. Poet Ainsley Burrows will also perform.
Doors open at 8pm; Nyahbinghi drumming begins at 9pm.
For tickets and information please visit www.ticketweb.com or call 718-421-6927 for local outlets.