Brina Releases Debut Double Single with Live Performance at Redbones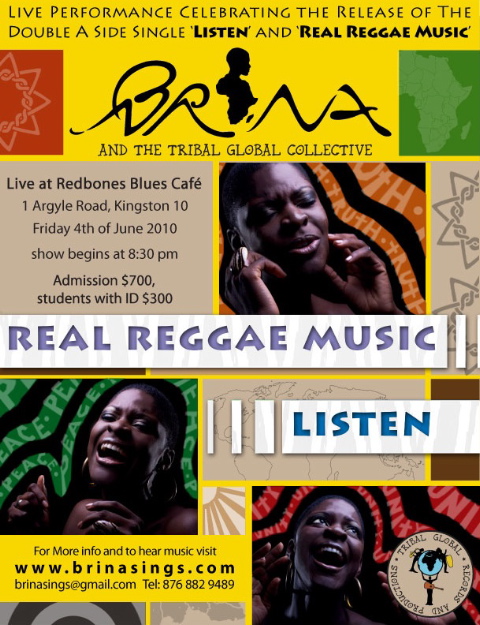 Brina's upcoming performance this Friday at Redbones will celebrate the release of her debut double A side, including "Listen" and "Real Reggae Music."

The song "Listen" is a reggae one drop with a catchy melody and lyrics. "Real Reggae Music" goes back to the heart of roots rock reggae, with a powerful message calling on all world citizens, to "get rid of these walls in our minds," and to "tear down these walls that divide" – a timely song both internationally and here at home.
At a time when the local music industry is being criticized for turning out mostly negative music, Brina is being hailed as a breath of fresh air. Conscious of bringing a positive, healing message to the world, the lyrics in her songs speak of justice and equality, liberation, oneness and love. Brina is aiming to put positive roots reggae music with a spiritual message back on the world map.  Brina will be backed on stage by her band called The Tribal Global Collective who will also be performing songs from her upcoming album.
Brina has spent the past year in the studio recording tracks for her debut album, which draws on and fuses together elements of her rich musical and cultural heritage such as Reggae and Nyabinghi with other musical styles from around the globe and the African Diaspora.
Produced by Kieran C. Murray for Tribal Global Productions and recorded in Kingston, this album includes contributions from  Jubba White from Dubtonic Kru, Sly Dunbar on drums, Rupert Bent Jr. and Omar Francis on guitars, Michael 'Ibo' Cooper, Sheldon Bernard, Stephen Maxwell and Jerome Tulloch on pianos and keyboards, Dean Fraser Nambo Robinson and Dwight Richards on horns, Calvin Mitchel and Supersad on hand drums and Kieran C. Murray on bass guitar.
From other corners of the globe John Barnes III was integral in vocal production and guitarist/producer J. B. Eckl (Santana, War) plays guitar. The renowned Afro-Caribbean drummer Istvan Dely from Columbia plays percussions and Paul Gonzales from Texas adds some Latin funk flavours on drums. All lend an international flavour that exemplifies Brina's mission of using music to express unity in diversity.
Born and Raised in Manchester, Brina grew up with music, singing with her familly, in the Church, in school, and touring all over Jamaica in gospel shows with her sister as The Ward Sisters. Upon leaving High School, she enrolled at Edna Manley's School of Art, but after two years as an art student, she transfered to the School Of Music. During her time at Edna Manly, Brina also worked as a background singer, sharing the stage with Prily Hamilton, Abijah, Coco Tea, Len Hammond, Althea Hewitt and Prophecy,
With the release of her debut double A side and upcoming album, Brina says, "My songs come alive on stage, and my music is for anyone who will listen. As I strive to help carry forward our ever-advancing civilization and spread the message of oneness unity and equality, using the world as my stage to bring people together, I am conscious of being part of a global musical movement that sings songs about real issues, songs that will uplift the spirit."
The full album will be released in the near future, and fans are encouraged to visit Brina's website brinasings.com.