Kingston on the Edge (KOTE) Urban Arts Festival 2012 Schedule of Events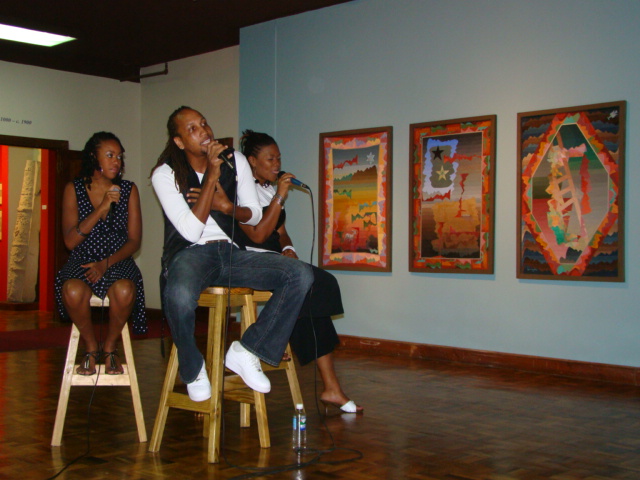 Here's the schedule of events for Kingston on the Edge (KOTE) – Urban Arts Festival 2012. Opening night is this Friday, June 22 and the festival runs till June 30.
 SCHEDULE OF EVENTS
 FRI22
9pm / KOTE2012 IDENTITY: THE OPENED I OPENING NIGHT
Redbones – 1 Argyle Road –Redbones Blues Cafe
Contribution: $1000
Gallery Opening 7pm (free):
Runs through June 30, 2012
BODY. SOUL. CONSCIOUS. An exhibition of old and new paintings by CHANDIS
Born in England and raised in Jamaica, Chandis is both a visual (painting) and performing (poet) artist
9pm – 11pm Main Stage:
On the celebration of his father's birthday, Addis Pablo pays tribute to Augustus Pablo and Rastafari through the captivating vibrations of the melodica. Roots Reggae & Dub….Blowing with the Wind…East of the River Nile.
Suzanne Couch is a talented pianist & one of the most alluring and beautiful voices in Jamaica! Journey with her on a special tribute to Ska, Jazz, Rocksteady and Reggae……Fu Manchu!
11:00pm – midnight Dunhill Lounge:
Papiumba Band: The musical duo of M'Bala & Papi creating organic sounds amongst Bonsai Trees grown by Kynan Cooke & Michael Woods
Visual Art
Inansi presents JaM-RoCKerS a collection of diverse people on diverse stones
and OUTTA MANY ONE: Portraits painted on river stones – limited prints available on acid-free paper with archival inks & matted.
Tree of Life: Work by Charl Baker
Garden:
JBW X: fine art photography club explores identity through the images of the Jamaican people and landscape

SAT23
11am -1pm / ROSE TOWN POTTERS OPEN HOUSE
1 Raphael Avenue – www.facebook.com/#!/JamrockPotters
(Directional signs posted from Balmoral Ave& Half Way Trees Rd. intersection)
Rosehall Artisans Project is a collaborative community based effort with The Prince's School of Traditional Arts (London) and Rosehall Developments. Digging clay from local soils & firing pots in handmade kilns, traditional shapes of traditional cooking pots and tableware are rediscovered.
3pm – 6pm / 'SHOUT' AND 4PLAY
Studio 174 – 174 Harbour St. (Harbour & West St.) – www.facebook.com/Studio174
SHOUT is a collection of new works by Jamaican emerging artists – Alicia Brown, Leasho Johnson, Monique Lofters, Kristina Rowe, practicing Audrey Lynch & more …..
4PLAY features the SO((U))L collective DJs Lioness, Kwashe, Iset and Afifa in an experimental sonic presentation alongside Dub poet Steppa
 SUN24
11am – 1pm / RE-OPENING OF KAPO GALLERY
National Gallery – 21 Ocean Blvd.- www.natgalja.org.jm
The National Gallery showcases their collection of Mallica "Kapo" Reynolds work, reinstalled as part of the reorganization of their permanent exhibitions which was started in 2007. Reynolds is one of Jamaica's best known Intuitive artists and was a Zion Revivalist leader. Free guided tours
1pm – 4pm / COPYRIGHT LAWS & THE CREATIVE ARTS
National Gallery – 21 Ocean Blvd.- www.natgalja.org.jm
Visual & Performing Arts Jamaica (VPAJ) and KOTE present this open discussion with an overall aim to illustrate / debate / explore / critique the current copyright system. Accompanied by film clips and small scale live musical performances, this will be the launch of a series of IP-Focused events.
Invited participants include Veerle Poupeye (ED, National Gallery), Herbie Miller (Director/Curator IOJ's Jamaica Music Museum, Chris Muir (UWI Mona Information Technology Services), Joan Webley (Manager of Copyright & Related Rights Directorate), Christopher Edmonds (Owner of Zincbeats, a music and media distribution and publishing company); Bruce Hart (independent film maker), Seretse Small (Music artist and professional) and you.
12pm-1pm / AMEN BOOK LAUNCH
St Andrew Scot's Kirk Church – 3a Duke St, entrance on Mark's Lane
A reading from the coffee table book AMEN, by author Jackie Young and a guided tour of the building which is the principal Presbyterian Church in the island. It was rebuilt after the 1907 earthquake on the foundations of the original building.
This Coffee Table Book strikes at the core of Jamaica's church history. The houses of God featured in AMEN represent denominations that were present on the island prior to the ending of slavery. 112 churches and one synagogue are included.
5pm – 7pm / MUSIC IS SACRED
Shaare Shalom Synagogue / 92 Duke Street (Entrance on John's Lane). – www.ucija.org
Live music performance by legendary Jamaican musicians Earl "Chinna" Smith, Kiddus I and Cedric Myton, along with young talents Jah9, Jahmiela & Inna de Yard- Bringing the music and spirituality of Rastafari to this beautiful and holy place, the only Jewish house of worship in the island.
MON25
7:30pm – 10pm / SHORT FILM FESTIVAL
Redbones – 1 Argyle Road – www.redbonesbluescafe.com
Especially for KOTE, local movie enthusiast David Morrison hosts and curates a night of Jamaican short films all under 15 minutes in duration. Come be part of the groundswell lifting local moviemaking upward into the future
Featuring films by Storm Saulter, Peter Dean Rickards and others; including the award winning film Red Amber and Green by Christopher Byfield.
TUE26
6m – 8pm / SON OF A CHAMPION
Mutual Gallery – 2 Oxford Rd – www.mutualgallery.com
Show will be up for 6 weeks
Winner of the 2011 Super Plus Under 40 Artist of the Year, O'Neal Lawrence, exhibits his latest work, exploring his relationship with his father
8.30pm / PIECES OF JAMAICA & TURNING POINT
Bolivar Gallery / 1D Grove Road – www.bolivarjamaica.com
David Muir's "Pieces of Jamaica" collection captures the candid beauty of the Jamaican people and our rich and diverse landscape. This collection captures rustic reality and spirited humanity along with true beauty in things others might consider mundane.
Maxine Gibson, an accomplished Jamaican artist and architect, presents "Turning Point", featuring paintings from her Blue Mountain collection, a tribute to Marcus Garvey among other work, as well as assemblages "Gambler's Choice" and "Inner City"
Musical Performance by Jason Worton
WED27
7:30pm / PECHA KUCHA 20X20
Grosvenor Gallery – 1 Grosvenor Terrace
Drawing its name from the Japanese term for the sound of "chit chat" Pecha Kucha Night was devised in Tokyo as an event for young designers to meet, network, and show their work in public. It has turned into a massive celebration, with events happening in hundreds of cities around the world, inspiring creatives worldwide.
The Night rests on a presentation format that is based on a simple idea: 20 images x 20 seconds.
Featuring: David I Muir, Colin Porter, Charl Baker, Ingrid Riley, Cole' Brown, Dana Baugh, Kamaal Manboard, Safi Harriet, Margaret Stanley, The 4th World and more
Presentations start at 8:20pm sharp
Food and drinks will be on sale at Grosvenor's new café Roy Christopher's
 THU28
5pm-8pm / A BRICOLAGE OF IDENTITIES
Olympia Gallery – 202 Old Hope Road
Featuring the works of 4 Jamaican Visual Artists:
Carol Crichton, Mortimer McPherson, Gisele Gardner and Garfield Morgan
Musical Performance by Ramsay
9:30pm / OPEN JAM SESSION
Tony's Bar, 5 Chelsea Ave. (Behind Chelsea Hotel)
Free form live musical performances, DJ Gabre spinning after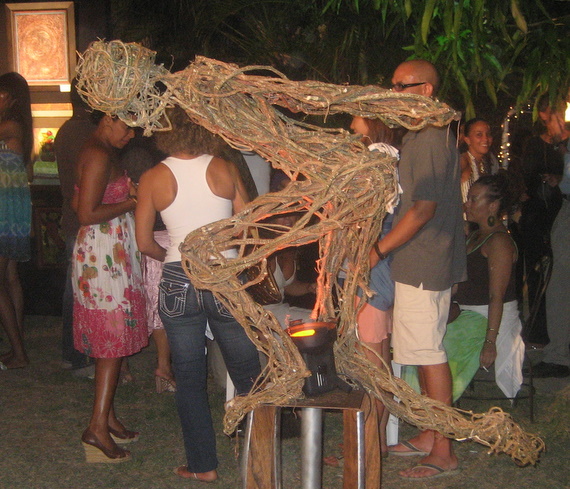 FRI29
5pm – 8pm / ART MARKET
Décor VIII Gallery – the courtyard at 8 Hillcrest Ave – www.facebook.com/decorVIII
Visual Art exhibition and outdoor Art Market, featuring 10 or more local artists
Musical Performances by Phillip Supersad & Poetry Performance by Faith D'Aguilar
9pm / MUSIC EVOLUTION
Redbones – 1 Argyle Road – www.redbonesbluescafe.com
Contribution: $1000
Gallery: BODY. SOUL. CONSCIOUS.
Visual Art: Mark Harrison, Ingrid Coke & Inasi
Musical Performance:
Three distinct sets mapping the musical genome, from live instrumentation to electronic technology.
Robot Taxi: Live Performance
Conversation Piece: Improvisation between DJ Sawandi & Omar Francis, Jason Worton, Vernon Dacosta, Kiddus I, Steven Newland and more!
Deep Cover 12: The convergence of DJs Pieter Barrow, Kwame Fredricks & Charles Lazarus spinning the best in Deep House music.
Garden: LA Lewis, Almost Famous
Famed DJ and "Conceptional" artist LA LEWIS will be presenting his first public exhibit. The installation will feature several objects that LA has created and some items that he has 'actually touched'.
http://lalewis.com/almostfamous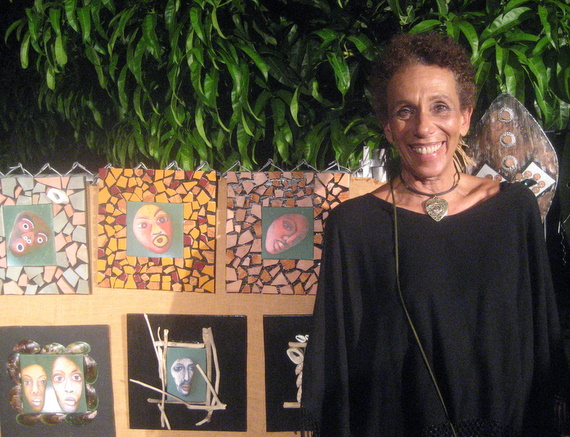 SAT30
EXHIBITION 2012
11am – 3pm
Bank of Jamaica Auditorium – Nethersole Place
The Association of Jamaican Potters annual exhibition
1pm –3pm / RED RUBBERBAND MURAL
Location to be listed on Website and Facebook
A KOTE favorite led by Allison Perkins. Join us in bringing some beauty to the city. Some brushes, acrylic, oil, spray paints & reducer will be provided. However if you would like to contribute supplies to the whole, it would be greatly appreciated.
Location will be blasted on our mailer and Facebook Page
5pm –7pm / NO PLACE LIKE HOME
Artist Open House – Old Stony Hill Road
Welcome to 'Wilmar', the house of artist Olivia McGilchrist's late grand-father's house, lingering with traces of a Jamaican heritage which she's struggling to make her own. Three distinct moments from the 1980's to 2011 will be portrayed as video installations throughout the house.
This work follows on from an ongoing body of work entitled 'my dear daddy', which was previously exhibited at the Edna Manley College's CAG[e] Gallery last April.
7pm 1am / "I SPOKE A DAY TOO LATE" NOW "I SING PROTEST MUSIC"
Artist Open House – 27 Gibson Road (off Stony Hill Road)
Who is Vanessa Kirkland? Who is Kavaun Shue? Five murdered Jamaicans come back to share their lives with us through performance, art and music…
This programme is an ongoing collaborative effort between SISTREN THEATRE COLLECTIVE and SO((U))L to use art to create a platform for social justice activism.
Host: Afifa
Guest Performance: D'bi "Jamaican-Canadian dub poet, monodramatist, and educator"
Music and dancing to follow
SPECIAL THANKS
Blackwell Rum / Select Brands / WISYNCO, William Mahfood / Wata /
Redbones Blues Café / Berl Francis & Associates / MJK Productions /
Ranger Security / Hot Off The Press / Michael Matalon
And all the artists, venues and others which help make this all possible!!!