Best of CaribbeanTales 2010 : Film Festival and Symposium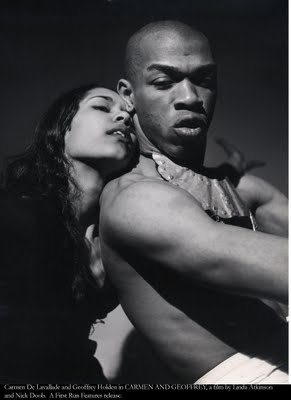 The creative industries of film and television will receive a boost this February when CaribbeanTales, a Toronto-based multimedia company, brings together formidable local, regional and international partners to showcase, discuss and promote Caribbean film at  "The Best of CaribbeanTales Film Festival and Symposium that will take place at the Olympus Cinema, Sheraton Center and at UWI Cave Hill from February 23rd to March 2nd, 2010. The Festival will kick off with a Media Launch on December 8, 2009 at 1.30pm at the Errol Barrow Center for Creative Imagination, UWI Cave Hill.

The event's Director is accomplished Toronto-based Trinidadian filmmaker Frances-Anne Solomon, whose most recent award-winning feature film A Winter Tale has won international acclaim, and who has been a visiting lecturer at UWI. She said: "February is Black History Month and it is fitting for us to mark this with a celebration of film, to start the year with a bang and to push the discussion forward about how we can create here a sustainable and profitable industry".
The festival is incredibly proud to partner with a number of local organisations including One Caribbean Media, that will co-host a Symposium on Global Distribution, and whose CEO Dr. Terrence Farrell will be speaking at the Press Launch; and the Barbados Film and Video Association, whose president Penelope Hynam said: "I am delighted that Barbadian audiences will get to see some of the wonderful films we saw at the Caribbean Tales Festival in Toronto this year, including a fantastic cross section of work by our most important filmmakers from around the Diaspora."
This year 2010 the CaribbeanTales Film Festival welcomes 3 new Associate Directors who will work alongside Solomon to program, manage and promote the festival: Jamaican filmmaker Mary Wells, whose first feature film Kingston Paradise, recently wrapped production, and is destined for screens later in the year, joins the festival's management team as the Co-ordinator of the Barbados event.
Trinidad-based Producer-Director-TV Personality Lisa Wickham, CEO of E-Zone Entertainment, and Director of the Caribbean Film and Media Academy, (CFMA) will assist with the event production. The CFMA will also host a number of workshops as part of the festival activities. And Mitzi Allen, CEO and Co-owner of HAMA TV in Antigua, also joins the Festival as an Associate Director. HAMA will be covering the Festival, and will be seeking to bring a delegation of OECS producers to Toronto in June.
The CaribbeanTales Film Festival is North America's only standalone festival showcasing the best of Caribbean cinema from around the world. Founded by Frances-Anne Solomon, the festival has survived, grown and thrived in the highly competitive Canadian festival scene, to become a notable event in the city's calendar. "For our 5th anniversary we have planned a number of exciting events and initiatives to promote Caribbean film and TV, including a presence at Cannes 2010. It seemed fitting that we kick off this extraordinary year with a discussion in the Caribbean and Barbados is dynamic, central and accessible."
For more information contact: Frances-Anne Solomon: francesanne@ledaserene.ca or  Monique Young: myoung.caribbeantales@gmail.com