Africa World Documentary Film Festival 2013 Starts April 25 at UWI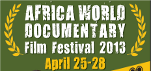 Africa World Documentary Film Festival 2013 starts April 25 and runs till April 28.
Opening Ceremony April 24 , 6pm
("Rwanda – 17: Healing a Nation" to be screened at opening)
Admission: Free for all films!
Neville hall lecture theatre (N1) – UWI MONA CAMPUS
(near Philip Sherlock centre)
Use main car park beside philip sherlock centre
For more info: myspot.mona.uwi.edu/proffice/ecalendar/events/5092
FILM FESTIVAL SCHEDULE
Thursday April 25, 2013
2:00 PM – 4:15 PM
Red, White, Black & Blue
James Brown (81m, U S A)
Students from South Los Angeles fly to new Zealand to play rugby. A sport that is increasingly popular in the United States, the
tour provides these students and the Kiwi teams they battle a rare opportunity to dig beneath the surface of things. On the field,
troubled histories melt away, and we see boys rise as men; girls lead as women stronger for facing up to a challenge. 'red, White,
Black and Blue' provides a sensitive take on a rough game: it blends on-field triumph with off-field tragedy. if the spirit of these teens
is any indication, the Olympic rugby gold medal – currently held by the United States since it was last an Olympic sport in 1924 – may
just be defensible after all.
Standing at the Touchlines
Ashley Morrison (52m, Australia)
'The blacks are tired of standing at the touchlines to witness a game they should be playing,' wrote activist Steve Biko before his
death in 1977. He was referring to life under apartheid in South Africa, but the statement was also true when it came to football.
Football is a key part of African Life; it is a sport that brings the people together; A sport that gave them their independence.
However, would South Africa hosting the World Cup bond a continent? 'Standing at the Touchlines' travels through Africa during
the World Cup in 2010 to find out.
4:30 PM – 6:30 PM
The Wild West of Namibia
David Whalen (47m, U S A)
The documentary film explores the desolation of namibia, the great and eerie Skeleton Coast, the shipwrecks there, the souls of the
dead diamond hunters on her shores, and the history of the diamond rush at the turn of the century. inland discoveries include the
elusive hermit Flip Stander, who has lived in the desert among the desert lions. After a surreptitious border crossing into Angola
we learn of the Himba people, their matriarchal society, their tragic past, the infamous german general, Lother Von Trotha, who
nearly decimated them in what is considered a precursor to the nazi genocide, as well as their future struggles in preventing a
hydroelectric dam from ruining their lands and way of life.
Songs of Redemption
Miquel Galofre (78m, Spain, Jamaica)
The film reveals a stream of consciousness as told by Kingston prisoners incarcerated for numerous crimes. The prison, once a
concrete holding area for African slaves, is devoid of basic human necessities and reflects a reality of unimaginable consequence.
The movie exemplifies the unique transformation of an extremely violent environment into a new state of creative and healing
artistic collaborations. Through the compassionate vision of Superintendent Fairweather, prison staffs are guided to recognize
inmates as human beings whose lives could be renewed and positive outcomes unveiled through the use of creative outlets and
skills. Combined with the efforts of Social Activist, Carla gullotta, programs were initiated to support continuing education such
as music production, computer technology, welding and other skill based opportunities. For these prisoners, as described by one
inmate, redemption comes when the criminal moves from a very dark hopeless place into the light, the light of life and forgiveness.
6:45 PM – 9:15 PM
Dear Mandela
Dara Kell (93m, South Africa, USA)
When the South African government promises to 'eradicate the slums' and begins to evict shack dwellers far outside the city, three young
friends who live in Durban's vast shantytowns refuse to be moved and decided to stand up for their rights. Dear Mandela follows the
journey of these three young people from their shacks to the highest court in the land as they invoke nelson mandela's example and
become leaders in a growing social movement. By turns inspiring, devastating and funny, the film offers a new perspective on the role that
young people can play in political change and is a fascinating portrait of South Africa coming of age.
Holyland
Anna Somershaf (53m, israel)
'Holyland' tells the story of Solomon, a pastor of a foreign workers' community from ghana who reside in Tel-Aviv. Solomon has to function
as a father for his community while he is coping with the void created by the loss of his 2 sons: one left behind in ghana, and the other died
in israel. A visit to ghana, and a reunion with his eldest son, will bring up the pain and regret that he wouldn't deal with for many years.
Friday, April 26, 2013
2:00 PM – 4:15 PM
Rwanda – 17: Healing a Nation
Claudio von Planta (63m, United Kingdom, Rwanda)
The Documentary captures the story of rising rwandan football stars who qualified to compete at the 2011 Under-17 World Cup in mexico.
Born just after the 1994 genocide, these young players – more than half of them orphaned by war – show how discipline, determination
and uncompromising team spirit leads to the success that can inspire a nation to reconcile and recover from a murderous past. presented
by award winning Sierra Leone reporter Sorious Samura, the story of these young players represents rwanda's breathtaking evolution and
hopes for a better future, with good leadership and unity at the heart of not only sporting success but also a nation's efforts to achieve
reconciliation and prosperity.
Takeo: A Percussionist with Down Syndrome
Takashi Tokida (76m, Japan)
An inspirational film about a young Japanese musician with Down Syndrome. Takeo niikura has always loved music and socially interacts
with people through the power of music. Having attempted several instruments through his development, Takeo had found a love for
African drumming after having participated in a drumming workshop in elementary school. now 24 years old and with many performances
under his belt, he finally achieved his long-held dream by signing-up for a drumming workshop in Senegal, the homeland of his beloved
instrument. The documentary follows his development as a musician as well as an individual. Takeo's enthusiasm for music is inspirational,
and his journey unforgettable.
4:30 PM – 6:30 PM
Santiago is Santiago (Santiago es Santiago)
Warren Haack (70m, Cuba, U S A)
Discover the real Cuba: The island time forgot. Where a rich home-grown culture thrives free of the Commercialized World of American
mass media! in over 50 years since the revolution, Cuba's isolation has allowed the culture to evolve on its own. in 2010, the filmmaker
traveled to Cuba on a lark to experience the music and ended up falling in love with the culture. He returned four more times to experience
it and film this in-depth look at the music, dance, religion and everyday lives of the people; in the streets, homes and clubs where life throbs
to a distinct, captivating rhythm.
African Drum, Beyond the Beat
Tariq Richards (48m, United Kingdom, South Africa)
'African Drum, Beyond the Beat' is a portrait of the various social functions of the drum in West African society. The film uses an ode
to the African drum to demonstrate its pervasive role in society over time. The drum's social functions range from uses in work songs,
to communication, to religious rituals, through to it more contemporary uses by fans at football games. 'African Drum, Beyond
the Beat' takes a special interest in the conception and nature of rhythm and, in dance, the inter-dependent relationship between
the drummer and dancer by exploring the effects of drum rhythms on both. it also looks at the different elements required for
manufacturing a drum, from the physical to the social.
6:45 PM – 9:00 PM
Hibana
Ameer Muhammad (70m, U S A)
A Documentary film about an American man that travels to the Dominican republic. He does not know Spanish but is introduced to
a Dominican woman and they fall for each other. They each have two children and now a new girl (Hibana) on the way. The audience
learns the Dominican culture through following this very unique family as he learns Spanish and is introduced to an entire new way
of life. She incorporates his islamic faith with her beliefs and Catholic culture. The film has a dramatic twist that is sure to surprise all.
I am Gay and Muslim
Chris Belloni (59m, netherlands)
This intimate documentary follows a number of young moroccan gay men in their exploration of their religious and sexual identity.
The men portrayed in the film openly share their personal experiences and talk about the ambiguity and secretiveness of the life
they feel condemned to live, although some have openly acknowledged their sexual orientation. The documentary aims to raise
awareness and break the taboo surrounding homosexuality while exposing a broad spectrum of dilemmas that these gay men
struggle with or have overcome in the past.
Saturday, April 27, 2013
2:00 PM – 4:15 PM
From Queens to Cairo
Sherif Sadek (57m, U S A)
When the egyptian revolution started back in January 2011, many egyptians abroad were unable to leave their jobs and families to return
to Cairo to participate in that popular attempt to shake off autocracy in egypt. This film is about an egyptian American who takes his family
back to his native Cairo, one year after the egyptian revolution. He is determined to see for himself the challenges that lie ahead on the
road to democracy. His travels take him from Tahrir Square to the insides of cabs and slums' discussing the future of the country but also
the major events of the previous years, as a way to understand how the country arrived at the state it was in, one year later.
Words of Witness
Mai Iskander (71m, USA)
every time 22-year-old Heba Afify heads out to cover the historical events shaping her country's future, her mother is compelled to remind
her, 'i know you are a journalist, but you're still a girl!' Defying cultural norms and family expectations, Heba takes to the streets to report
on an egypt in turmoil, using tweets, texts and posts. Her coming of age, political awakening and the disillusionment that follows, mirrors
that of a nation seeking the freedom to shape its own destiny and democracy.
4:30 PM – 6:20 PM
Shokran, Toni
Nahid Toubia (12m, Sudan)
in September 2011 the African American novelist and nobel Laureate for literature, Toni morrison published a letter addressed 'To
a Sudanese Woman', in which she expresses her thoughts and feelings about the violations of women as a reflection to a youtube
video of a Sudanese woman being lashed for an unknown moral crime. A young Sudanese woman and her friends gather together
to read Toni's letter and decided to respond to Toni morrison. They say 'Shokran Toni,' which means 'Thank you Toni' in Arabic, for
bringing the attention of the world to their plight under the fundamentalist islamic military rule. They take Toni (and the viewers)
on a journey around Sudan telling the history of the country and its people, including the recent events of civil war and genocide
committed by the regime, which caused the country to divide.
Mama Africa
Mika Kaurismaki (88m, South Africa)
A documentary about world-famous South African singer miriam makeba, who spent half a century travelling the world spreading
her political message to fight racism, poverty and promote justice and peace, is a tribute to a woman who embodied the hopes
and the voice of Africa as no other. miriam makeba (1932-2008) was an inspiration to musicians all over the world and a delight
for international audiences. nonetheless she remained true to her South African musical roots. She was forced into early exile
from her homeland in 1959 as a result of her involvement in the documentary indictment of the Apartheid system in South Africa.
After gaining worldwide attention in USA through her collaboration with Harry Belafontain, she found herself in the sights of the
FBi following her marriage to Black panther leader and black activist Stokely Carmichael in 1968. She decided to live and settle in
guinea, West Africa where she continued to fight the minority white Apartheid regime in her native land. making use of rare archive
documentary footage and a plethora of interviews, this film portrays the life of this exceptional artist and her music; a performer
who, for more than fifty years, never failed to create a stir wherever she went.
Flare
Creative Artistic (10m, Netherlands)
An intimate look at the life of a Dutch woman suffering from an extreme case of Lupus. We meet ida and follow her through day to
day life, from long train rides seeking medical help to the intimacies of her past in this monochromatic short film. As though from
a first person observer, we hope to better understand a less than popular disease and the effects of its affliction.
6:30 PM – 9:00 PM
Mbekk Mi
Sophie Bachelier (54m, France)
Mbekke Mi, two words of Wolof which evoke the clandestine emigration. The expression beats, echoing the pirogues which throw
themselves against the ocean waves and which are often wrecked at the end of their journeying. But mbekke mi is above all the
refusal to resign oneself to the deadly blows of an unjust destiny. if these young Senegalese men in their prime pit themselves
against so many perils, it's in hope of finding a better life. But what happens on the other side of the disaster? The 'wretched of the
sea' leave their loved ones behind – their wives, their mothers. it is these women's unique voiced that are heard in this documentary.
Speaking straight to the camera with stark intimacy, we can hear their moving and dignified voices.
The Road to Freedom Peak
Max Pugh (89m, United Kingdom, Australia)
Jonathan Okwir was abducted by the Lord's resistance Army (LrA) in Uganda when he was ten years old and forced into the jungle
to be trained as a child soldier. Corrin Varady is a philanthropist and activist who is working to help children like Jonathan re-join
their communities. Together, they embark on an adventurous trek across east Africa from the border of South Sudan, through
Uganda and Tanzania en route to Africa's highest point – Freedom peak, the top of mt. Kilimanjaro. To Africans, mount Kilimanjaro
is revered as a symbol of independence and hope. For Jonathan, the road To Freedom peak becomes an extraordinary journey to
forgiveness and redemption
Sunday, April 28, 2013
2:00 PM – 4:30 PM
Womanish Ways, Freedom, Human Rights & Democracy: The Women's Suffrage Movement in the Bahamas 1948-1962
Marion Bethel (73m, Bahamas)
Five Bahamian women led the Women's Suffrage movement in The Bahamas. The journey to female enfranchisement spanned
more than a decade. The film narrates the story of the Women's Suffrage movement with special attention to its five leaders and the
women and men who supported the suffrage for women.
Guerrilla Grannies
Ike Bertels (80m, Belgium, Mozambique, Netherlands)
For ten years three guerrilla girls were fighting for freedom in mozambique against portuguese rule. years ago, director ike Bertels
saw a BBC film about the liberation army – FreLimO. She was touched by monica, maria and Amelia, who had made the choice to
fight. ike found them, learned portuguese, and filmed them time and again in 1984, 1994 and up to now. She showed to what extent
ideals from the revolution did shape mozambique. Today the grannies struggle with their children and grandchildren. How to mix
ideals about education or the role of women in society with the upcoming globalized world?
4:45 PM – 6:15 PM
The Thing That Happened
Andrew Walton (20m, U S A)
near the remote trading center of Bweyale in northern Uganda, sits the tiny campus of Hope north Vocational and Secondary
school. The students here are a mix of former child soldiers, orphans and abjectly poor kids, displaced by the 22-year old civil war
in Uganda between the Lord's resistance Army (LrA) and the Uganda people's Defense Forces (UDpF). The teachers are mostly
rookie educators fresh out of Ugandan universities. Their teaching tools amount to little more than their own wits and a scattering
of outdated textbooks. But deficiencies or not, the school is the only chance these kids have to escape their tragic histories. For
the teachers, despite the numerous challenges, they are driven by a sense of responsibility to educate the next generation of
peacekeepers and leaders. Against the odds, the school is having an effect on these students. Their story becomes a metaphor for
personal identity, the resiliency of the human spirit and the power of hope.
Nile Perch
Josh Gibson (17m, Uganda)
A man and a fish on Lake Victoria in Uganda. This hand-made black and white film is a meditation on the economic impact of an
invasive species as well as a parable about the effects of globalization and colonialism on Africa.
I'm tremendously happy that I am going to play Golf
Sameh Estefanos (51m, Egypt)
golf courses in egypt are fast growing a big number nowadays, establishing continually in new compounds as well as touristic
resorts, while egyptians are facing a current and future thirst and hunger! …and that is why i am happy, tremendously happy that
i am going to play golf!
6:30 PM – 9:00 PM
Tumi: The Life and Death of Boitumelo McCallum
Ian Phillips (57m, U S A)
A documentary film about a young black woman murdered in new york by her former boyfriend in 2007. The daughter of a South
African anti-apartheid activist, Tumi had moved to new york from her home in South Africa with her parents, now professors at
nyU, who were searching for freedom and security. Through home movies, stills and interviews with family and friends, the director
creates a portrait of a talented, loving young woman whose life ended in tragedy, and shows the effects of this tragedy on the
people who loved her.
Wolf Call
Rob Underhill (12m, U S A)
it is 1956. previous year, 14-year old emmett Till from Chicago had gone missing in money, mississippi. Later, the boy's mutilated
body was found in a river. William Bradford Huie of Look magazine sits down with the two men acquitted for the boy's murder,
roy Bryant Jr. and J.W. milam, to discuss the trial. not a word had been uttered outside a courtroom by them or their kin, until
now… WOLF CALL (12 Best Film Awards), is the true-story crafted from public record that became a lightning rod for moral outrage
pivotal in inspiring a whole generation to commit to social change in the 1950s. 'His death was a spark that ignited the Civil rights
movement in America,' ed Bradley, emmy Award-winning journalist.
War Don Don
Rebecca Richman Cohen (85m, U S A)
in the heart of Freetown, the capital of Sierra Leone, United nations soldiers guard a heavily fortified building known as the "special
court." inside, issa Sesay awaits his trial. prosecutors say Sesay is a war criminal, guilty of heinous crimes against humanity. His
defenders say he is a reluctant fighter who protected civilians and played a crucial role in bringing peace to Sierra Leone. With
unprecedented access to prosecutors, defense attorneys, victims, and, from behind bars, Sesay himself, the documentary puts
international justice on trial for the world to see — finding that in some cases the past is not just painful, it is also opaque.