How to Green a Hotel – A Case Study of Hotel Mocking Bird Hill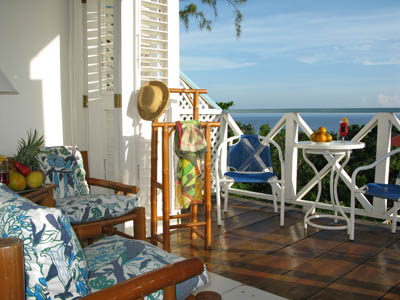 Here's the link to Barbara Walker's presentation made at the recent ECCO Magazine's Green conference.
The presentation was entitled "Reducing Carbon Emissions Through Sustainable Living" and focused on the procedures and management strategies implemented to make Hotel Mocking Bird Hill a "green" hotel.
Barbara is the co-owner and manager of Hotel Mocking Bird Hill in Portland, probably the most environmentally friendly and responsible hotel in Jamaica.
The hotel has won numerous environmental awards including the Virgin Holidays Most Responsible Tourism Hotel Award for 2010.
No air conditioning, mini bars, or plastic straws!

Check out Barbara's presentation to learn about what makes Hotel Mocking Bird Hill such a great example of a tourism entity going green!
Here are a few of the things that makes Hotel Mocking Bird Hill Jamaica's best environmentally friendly hotel:
Solar Energy
 Rainwater Harvesting
 Natural Air-conditioning
 Low Chlorine Pool Running On Renewable Energy
 Anaerobic Wastewater Treatment
 No Insecticides/Pesticides Used In The Gardens
 Locally Employed Team
 Organic Locally Sourced Items Wherever Possible
Read more here.