University Players Presents Classic Comedy 'Appropriate Behaviour'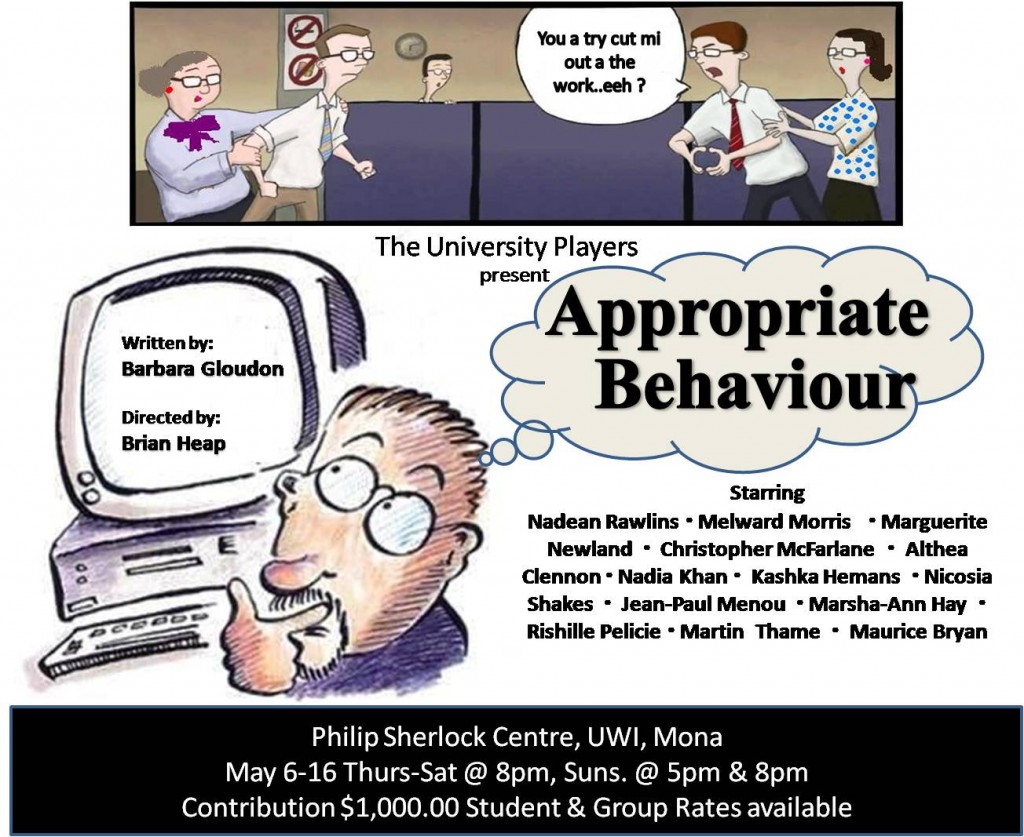 The award-winning University Players present their first production for 2010 at the Philip Sherlock Centre, UWI.
After last year's acclaimed staging of A. R. Gurney's 'Love Letters' and Trevor Rhone's 'Two Can Play', the Players turn their attention to the world of work and office life, with Barbara Gloudon's hilarious comedy 'Appropriate Behaviour'. In this witty and fast moving production, Gloudon, who is an honorary graduate of the UWI, turns her penetrating gaze on the interactions between workers and management that anyone who has ever worked in a Jamaican office will readily recognize.

The Players' usual strong cadre of performers is led by Nadean Rawlins, Marguerite Newland, Christopher McFarlane, Rishille Pelicie, Nadia Khan, Marsha-Ann Hay, Jean-Paul Menou, Melward Morris and Maurice Bryan, who play alongside some familiar Mona campus faces like Althea Gordon-Clennon, Nicosia Shakes, Kashka Hemans, and Martin Thame.
'Appropriate Behaviour' is directed by UWI Staff Tutor and award-winning director Brian Heap.
Playing times are Thursdays-Saturdays at 8pm and Sundays at 5pm and 8pm. Discounts on tickets are available for students and for office and other groups of ten or more persons. A limited number of benefit performances are also available for departments and service groups looking for a fund-raising opportunity.
Contact the Philip Sherlock Centre for the Creative Arts, UWI, Mona on 977-9770 for further details.
For more information contact Nadean Rawlins at nadeanrawlins@gmail.com