Olive Senior Launches New Book Sunday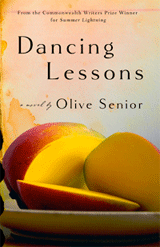 On Sunday December 11 2011 at 11 a.m. Olive Senior wil be launching her new book Dancing Lessons at the Neville Hall Lecture Theatre (N1), University of the West Indies, under the auspices of the Department of Literatures in English, UWI.
"Olive Senior was born and brought up in Jamaica and educated in Jamaica and Canada. She is a graduate of Montego Bay High School and Carleton University, Ottawa".
"She started her career as a journalist with the Daily Gleaner and later entered the world of publishing. She was editor of two of the Caribbean's leading journals – Social and Economic Studies at the University of the West Indies and Jamaica Journal, published by Institute of Jamaica Publications of which she was also Managing Director. She left Jamaica in 1989, spent some years in Europe and since 1993 has been based in Toronto." (taken from Ms. Senior's website).
For more info see website for Olive Senior