Artist Juliet Thorburn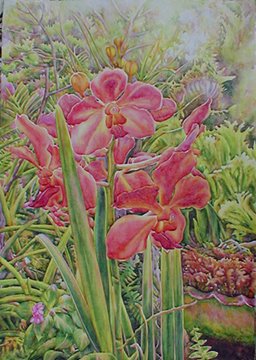 Juliet Thorburn is one of Jamaica's most talented painters. Painting mostly in watercolors and oils, Juliet is inspired by nature's energy and the outdoors.
She is one of Jamaica's premier nature artists- known for her spirited watercolours and illustrations that celebrate the island's lush landscape, exotic trees and flora.
Juliet now paints what she describes as ethereal pieces, mirroring her appreciation for more abstract themes.
Juliet also has recently introduced jewelled ethereals, which involves a technique of adhering glass to watercolour. The ironic result of this tactile method is a beautiful homage to feeling above form.