What's Happening in Jamaica in 2015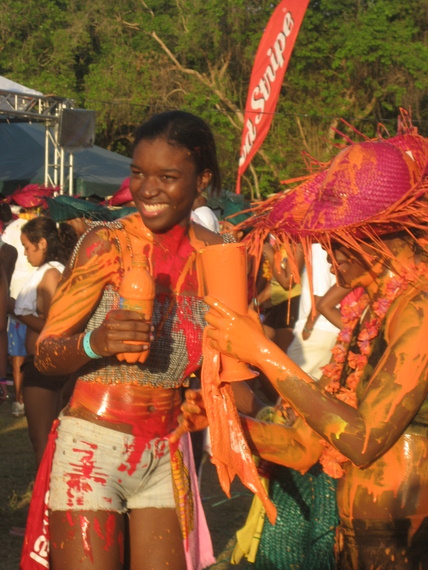 There's so much happening in Jamaica this year!
I bet you'll be surprised to learn about the number of festivals and events held in Jamaica every year!
According to our Director of Tourism, Paul Pennicook, "Jamaica has a fantastic yearlong calendar of festivals and events. These activities include world-class food, music and sporting events."
The following are some of the festivals and events happening in Jamaica in 2015. For more info see http://www.visitjamaica.com/
We'll try to keep this updated so check back for new additions!
JANUARY
• Accompong Maroon Festival  (Accompong, St. Elizabeth, January 6): Celebrated by the Maroons of Western Jamaica, Maroons are descendants of runaway slaves. Involves traditional singing, dancing, ceremonies.
• Annual Rebel Salute (Priory, St. Ann, January 16 – 17): Rebel Salute is a popular roots reggae show. Starting out as a concert to celebrate the birthday of reggae icon Tony Rebel, Rebel Salute has captured the adoration of roots reggae lovers worldwide, pulling thousands of people to experience a live music festival. It serves a strict vegetarian menu complimented by a diet of cultural roots rap. In tandem with this, is the concept of a drug-free, violence-free and non-alcoholic event.
• Jamaica Jazz & Blues Festival (Trelawny, January 29 – 31): This world-class event is known for bringing a fantastic line-up of international and Jamaican artists to the stage. http://jamaicajazzandblues.com/
FEBRUARY 
• Reggae Month, (Kingston, February 1 – 28): Reggae Month highlights the impact of reggae on the island's social, cultural and economic development. Organized by The Jamaica Reggae Industry Association (JaRIA), Reggae Month includes a wide array of events, including concerts, festivals and seminars that showcase the true essence of Jamaican music. http://www.jariajamaica.com/reggae-month/
• Bob Marley Birthday Celebrations (Kingston, February 6 – 7): Bob Marley's birthday celebrations will take place at the Bob Marley Museum in Kingston on February 6. Activities will include symposiums on reggae and reggae jam sessions with Chronixx, Kabaka Pyramid and Nomaddz. The Bob Marley Foundation will host a concert on Kingston's waterfront on February 7 with the Marley brothers and other local artists performing. Both events are free to the http://www.bobmarleymuseum.com/
MARCH
• Kingston City Run (Kingston, March 15): The Kingston City Run promises to be a weekend of pure adrenaline and fun with two race events (a half marathon and 5k race/walk) and other festivities around the city. http://kingstoncityrun.com/
• Style Week Jamaica/Fashion-Block (Kingston, May 19 – 24): Style Week Jamaica and the blockbuster, internationally acclaimed Fashion-Block have become major events on the Jamaican entertainment/fashion calendar. The after parties, VIP cocktail receptions, seminars, supermodels and glamorous runway shows, appeal to fashionistas from around the world.
APRIL
Bacchanal Jamaica (Kingston, various events) Jamaica Carnival also known as Bacchanal Jamaica officially starts in February and culminates with Jouvert on April 10 and the Road March on April 12. http://bacchanaljamaica.com/events/
Jakes Annual Off Road Triathlon (Treasure Beach, St. Elizabeth – April 18). Did you know that Jake's Triathlon was rated as one of the Top Five Global Off-Road Triathlon from Triathlete Magazine in 2010?http://www.jakeshotel.com/triathlon2015/
JUNE 
• Jamaica International Ocho Rios Jazz Festival (islandwide, June 7 – 14): The festival will offer a week of great music, top entertainment and community participation. On the lineup are international performers from Europe, the United States and the Caribbean along with renowned Jamaican jazz artists. http://www.ochoriosjazz.com/
• Caribbean Fashion Week (Kingston, June 9 – 15): Recognized as the Caribbean's top fashion and style event, Caribbean Fashion Week is held each year in Kingston. It features renowned designers and emerging talent showcasing their collections. http://www.caribbeanfashionweek.com/
JULY 
• International Reggae Day (island-wide, July 1): On July 1, visitors can celebrate all things reggae in Jamaica where the musical genre was born. http://www.ireggaeday.com/

• Portland Jerk Festival (Portland, July 5): Portland is the home of jerk, and its Portland Jerk Festival showcases all things jerk. Participants are treated to a feast of jerk lobster, fish, chicken and pork. Activities include performances from local artists and community dance groups, arts and craft displays, a merry-go-round and face painting.
• Reggae Sumfest (Montego Bay, July 12 – 18): An anticipated annual reggae festival, Reggae Sumfest showcases the best talents in roots, rock and reggae music from both Jamaican and international performers. It's the greatest reggae show on earth! www.reggaesumfest.com
 • Little Ochie Seafood Carnival (Manchester, July 12): The Little Ochie Seafood Carnival is a celebration of the wide array of culinary delights available on the south side of the island. Little Ochie restaurant is nestled on the rugged beachfront of a quaint South Coast fishing village called Alligator Pond. Top local reggae musicians and vintage artists are featured along with excellent cuisine and a non-stop party. www.littleochie.com
AUGUST
• Mobay Jerk Festival (Montego Bay, August 1): This food festival is an excellent opportunity for visitors to enjoy jerk cuisine in Montego Bay. www.montegobayjerkfestival.com
DECEMBER
• Reggae Marathon (Negril, December 5): This marathon, half marathon and 10k race are Jamaica's premier international marathon event with sport enthusiasts converging on Negril for a fun event with good vibes and reggae music at each mile. www.reggaemarathon.com