Tivoli Gardens and the Pursuit of Dudus – What's Happening in Jamaica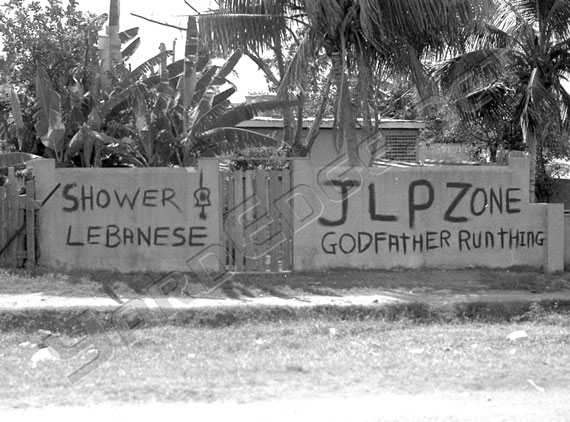 A view near Tivoli from the railroad. © 1988 Christopher Edmonds
Here's a guest post by Diana Thorburn on what's been happening here in Jamaica over the last few days. I think this is an accurate and fair assessment of the situation, explaining that this didn't "just happen".  Please share your comments and questions…
The violence began to flare up on Sunday with attacks by gunmen on police stations in the downtown Kingston area.  Monday, the day that the army entered Tivoli (and when the real combat began) was a public holiday here (Labour Day).
It's a very complex situation, but… this was an expected set of events. That is, this didn't "just happen".
Here are the variables:
1. Jamaica has a long-standing problem, 30 years in the making, of well-armed criminal gangs and networks, most of them who make huge amounts of money in the international drug trade. Most, if not all of these gangs have affiliations of some sort to the two major political parties, though it would not be correct to say that they are controlled by the political parties (at least not anymore).

2. The U.S. last year issued a warrant for the arrest of one Christopher "Dudus" Coke, who they say is one of the most dangerous and powerful drug lords in the world. For a number of reasons (I'm trying to keep this simple—why the government didn't comply with the extradition request is a whole issue unto itself) the Jamaican government did not extradite him right away, bringing immense US pressure on Jamaica that manifested in a number of ways, and which ultimately brought a near unanimous public voice here in Jamaica pressuring the government to hand Dudus over to the US.
3. Dudus's home base is a small area of downtown Kingston called Tivoli Gardens, the creation and political base of former Prime Minister Edward Seaga. When Seaga retired, our current prime minister, Bruce Golding, took over the constituency, and inherited the problem of Dudus. Tivoli Gardens has long been considered a "state within a state". Again it is a long and complicated story to explain the origins and existence of Tivoli Gardens, and other communities like it, so I won't try to do that here.
4. One week ago, bowing to public and U.S. pressure, Prime Minister Golding announced that he had given instructions for the extradition to proceed. What this means is that a local warrant was issued for Dudus' arrest. Dudus had the option of turning himself in (which is what usually happens when an extradition request is processed) and if he failed to do that, he would be sought by the security forces and arrested. (I might mention here that Dudus has a strong case against being extradited, because of breaches by the US of the extradition treaty, which was part of the reason the government didn't extradite him in the first place.)
5. Ahead of Monday's invasion of Tivoli, and in light of the mushrooming violence, a state of emergency for Kingston was announced on Sunday night. What this means is that the security forces have extraordinary powers to arrest, search and detain individuals (where as normally they'd need warrants, etc.)
6. The current violence, comprising attacks on police stations, and gun battles between gun men and state security forces, is a result of the marshalling, ostensibly by Dudus, of other criminal gangs, to challenge the state's attempt to arrest him. Reports so far are that two policemen and a soldier are dead as a result of this violence, and many others wounded. It is these occurrences of violence that have basically shut the city down, as they are sporadic and unpredictable, and have occurred all over the city, not just in downtown. Apparently gunfire has been heard near our apartment too. Many businesses and schools have not opened today as a result of this aspect of the situation.
7. There is also, in Tivoli Gardens itself, a battle between the army and Tivoli gunmen. The army entered Tivoli yesterday to search for Dudus in order to capture and arrest him. There are no confirmed reports, but there are likely to be numerous casualties as a result of this operation, both civilian and security forces, as well as the gunmen themselves. Nearly 24 hours later, they have not been able to capture him yet.
Communities like Tivoli constitute an ongoing challenge to the ability of the state to assert its authority and maintain law and order in the country. And that challenge has been, and continues to be, the most formidable obstacle to the country's economic and social development. I am not condoning the death of civilians by the security forces, and I will not be surprised if and when reports emerge that the security forces abused their powers, but Dudus (and those of his ilk) cannot remain above the law.