Ease Away From The Edge
YardEdge once again welcomes Guest Blogger Nicholas Stephenson.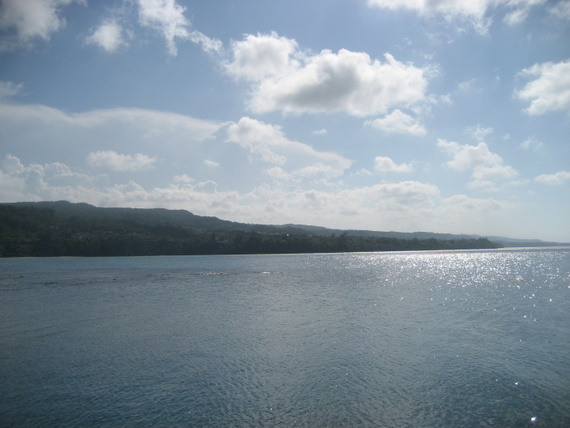 Little by little there seems to be a ray of hope on the horizon. The speed of moral decline fueled with fury since the 1970s by the inaction/unwillingness of our leaders to act positively in the interests of all our people now seems to be slowing. Or am I being too optimistic to think that we have the will to make the necessary hard decisions?

When the little things in life are addressed and dealt with, then the big things don't get a chance to be a problem.
But how do we keep us easing away from the edge?
Since 2008 there have been two decisions drawing the brakes on our slide deeper into chaos:
1. The enforcement of the Noise Abatement Act.
2. The ban of violent and obscene lyrics on the airwaves.
But is this enough? No its not, and the reality is we are so advanced down the path of a self-centered, opportunistic and corrupt lifestyle, that only a strong willed and possibly benevolent dictatorship can halt any further decline. Zero tolerance needs to be the order of the day.
So what can we do?
A). Discipline and work
1. The immediate enforcement of road traffic legislation – individuals not in adherence to have their vehicles impounded and only released on payment of a fine, plus any necessary remedial action. Initially targeting rush hour traffic and the daily non-adherence to the rule of law – any road in Kingston would be a good starting place where every morning coaster buses and route taxis drive on the wrong side of the road to beat the traffic queues.
2. Works programmes to take people off the street – roads, bridges, gullies and sidewalk remedial works, painting of buildings, water implementation etc. Each parish to develop a plan inclusive of costs – costs to be analysed by accounting entities (Price Waterhouse etc); procurement committees independent of Government to approve contracts and contractors – full media publication of all works projects, contract awards, costs, proposed time frames, penalties for late completion etc.
3. The immediate start of the Port Royal and Kingston Harbour project – we have talked about this for years. Now is the best time to start this programme to ensure future growth of our tourism market. Who in the world would not come and visit the once pirate capital of the world and the wealthiest city in its heyday? Recreate this area with vision.
4. As education is the surest guarantee of a better future, the building of schools across the island needs to be prioritized, and should form part of point 2.
5. Revamp of the costs of education – teachers and principals to be on fixed term contracts with an incentive based on students' performance at GSAT and CXC – no performance, no incentive.
6. Adequate security at every school entrance – this should be a reception point where parents wait to see a teacher/principal. Where discipline is not enforced at home then it needs to be enforced at school and our teachers on the front line protected.
B). Finances
1. Reduction of PAYE to 20% and an increase in GCT to 20%.
2. 50% increase in the tax on vehicles.
3. 100% increase in the tax on firearms, with the exception of security firms, where tax should remain at the present $6000 per annum.
4. Structured PAYE tax system as in the UK – tax structured according to salary with a possible 3 bands (20%, 25% and 40%)
5. Not just a freeze but a reduction of 5% to 10% in the income of public service employees – this is to save existing jobs. The 10% would be for those in the higher income bracket.
6. Private sector is to follow suit to show solidarity and the belief in Jamaica and its future.
7. The declaration by all major companies of sales to customers by volume and $ value -each customers trading name, business address etc is to be provided. This is to go hand in hand with an increase in Revenue Collectors who will be provided with relevant contact details of the above recorded and reported customers – the collectors to be paid a commission of revenue collected.
8. The compulsory carrying and utilization of the National Identification card for all legal and financial transactions. In other words if I run a company, any customer trading with me must have a National Identification card. This assists the implementation of the above point. Where the customer is a company, then the owner/proprietor/Managing Director must provide his/her National Identification card.
9. The immediate inclusion into the tax system of all firms who employ staff on a contractual basis where presently those individuals are responsible for their own statutory payments. Companies are to be forced to collect statutory deductions at source and pay over to the relevant Government agencies. Start with the security industry, at each business place they are contracted to. At the same time include any other contracted in firms. Start with the large registered and publicly known companies who utilize contractors.
10. A 20% tax on all remittance payments – remember that even within the PAYE system, any outside income must be declared and is liable to taxation.
C). Ad hoc
11. And finally a touchy subject – population control. This is not about "killing off" any race, as I believe this should be practiced by all countries, all nations, all cultures – if you are unable to adequately finance your child's/children's growth, development, education, health etc then you should not have children.
I believe China is the only country that practices this by dictate – instead we should try offering an incentive to each woman so as to ensure that children are born only when the parent/parents are financially, mentally, physically and spiritually able to take care of children.