"What happens in Negril, Stays in Negril" New designs from Sprawl tees: The Parish Collection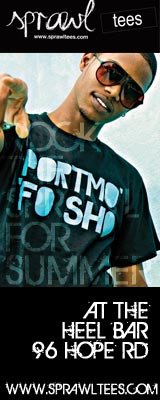 It's been over a yearlong journey and Kesi Gardner, founder and lead designer of Sprawl tees is ready to release her summer collection.
The Collection is coined "The Sprawl tees: Parish Edition", and is made up of designs inspired by the 14 parishes of Jamaica.
Sprawl conducted a poll, with over 200 votes from people all over the world, who voted for their favorite Sprawl tees: Parish Edition t-shirt.
The top designs released are:
"Jamaican Man Can Dweet"
"Portmo' Fo Sho"
"What Happens in Negril, Stays in Negril"
"Certified St. Thomas Obeah Specialist"
"Westmoreland Rent-A-Dread Academy".
These designs are paying homage to the parishes: St. Catherine, Westmoreland and St. Thomas.
Other duly noted designs on the voting poll were "Viva Ocho Rios", and "Montegonians Have more Fun" but have not yet made it to the print.
Other designs such as "Haffi Bun', "Caution: Rumhead" and "Bird Cyan Fly Pon One Wing" are a prelude to "The Sprawl tees: Party Collection", due to come out for Christmas.
Sprawl tees is a limited edition line and is available at The Heel Bar, 96 Hope Rd., Kingston, Brand'ish, The Norman Manley Airport, and The Hungry Lion Gift Shop, West End Negril.