Supplies Needed for Summer Art Camp for Kids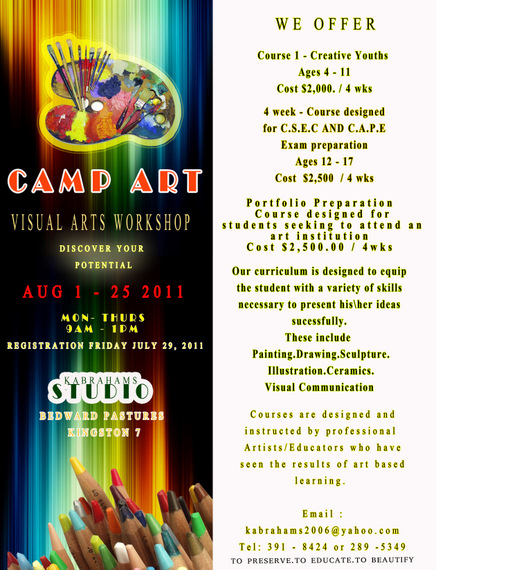 Camp Art, directed by artist and photographer Joanna Francis, is a series of art workshops targeted for kids starting Monday the 1st of August and running until the 25th of August.
These workshops will be conducted as a community upliftment project for the Bedward Gardens Community in Upper St. Andrew.
The workshops are art based and geared towards children between the ages of 4 and 17 years old.
The main focus is a specially designed 4 week course for students preparing for C.S.E.C. Art as well as C.A.P.E. Art, and also a portoflio preparation programme for students interested in pursuing a career in the visual arts, who may be interested in attending the Edna Manley College of the Visual and Performing Arts, or any other Accredited Art School worldwide.

They need help to acquire art materials and other supplies!
Please see the below list of materials  they need and see how you can help! If there is any thing that you are able to donate or lend, the youths will be extremely grateful for it!!!
If you can help please contact Joanna Francis via email at empressjoanna@gmail.com.
Tables
Chairs
Paper
– White Printer Paper (8×10)
– Construction Paper (multicolored)
– Brown Paper
– Catridge Paper (all colours)
Paint
– White Flat Emulsion
– Green (acrylic)
– Yellow ( " )
– Red ( " )
– Blue ( " )
Drawing Pencils (2b, 4b, 5b, 6b)
Erasers
Charcoal
Kneaded Erasers
Crayons
Craft Fudge Sticks
Ribbon
Ponal Glue
Glitter
Dye (red, gold, green)
Plastic Cups
Styrofoam Plates (dinner size and cocktail size)
Hand Towel
Cooler