Donovan Fairweather Mixed Media Exhibit at Mutual Life Gallery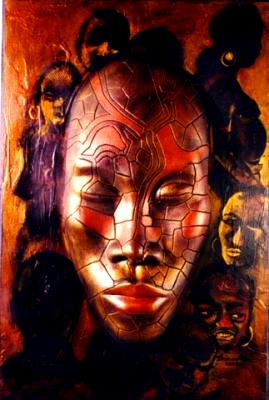 Mutual Life Gallery hosts a solo mixed media exhibit by artist Donovan Fairweather opening on December 10, 2009 (NEW DATE) with a VIP reception at 7pm.

Donovan Fairweather  is a ceramist and educator and a graduate of the Edna Manley College for the Visual and Performing Arts with a BFA in Ceramics.  Fairweather has shown in galleries across North America, the Caribbean and Jamaica and maintains an online gallery at www.donovanfairweather.com.
The exhibit features an eclectic collection of works which include ceramic sculptures, paintings and carvings reflecting various influences from afro centric roots to urban contemporary.
The artist's signature finish of paint over clay combined with collaged material on masks and vases has distinguished his artwork. "I embrace an eclectic perspective with strong afro centric influences. I am inspired by people and my creative spirit is fed by my travels.  My work explores themes in our everyday life presenting a unique expression that reflects a fusion of the contemporary and the old while staying relevant to our times".
For more information please contact:
Andrea M. Davis
The Higher Intelligence Agency
Tel/Fax: 876‐622‐6809