YardEdge talks to Jamaican artist & creator of Sprawl Tees, Kesi Gardner
Kesi Gardner is a mother, artist, and businesswoman as the conceptualizer and CEO of "Sprawl Tees". YardEdge talk to Kesi Gardner to find out more…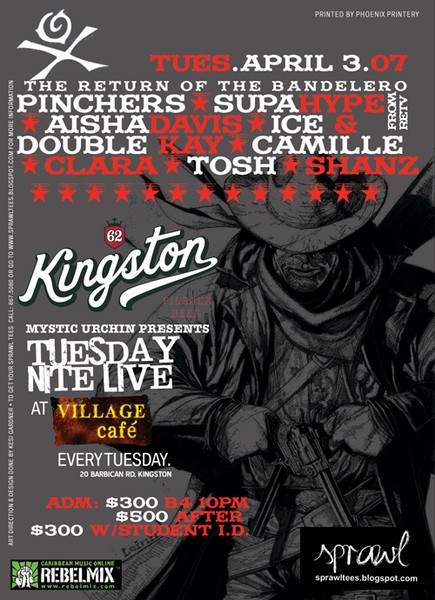 Part I
YardEdge: Why are you an artist?
Kesi: Ever since I was 4 years old, my parents have told me that I would always draw. My father still has a picture framed from my kindergarten class. He always encouraged my gift, as he saw a lot of himself in me. My dad is an architect, Rivi Gardner.
YardEdge: When did you first realize that you were an artist or wanted to become one?
Kesi: I have always been sketching and drawing since I was a child, I always had a pencil in my hand. When I moved to New York at 16 years old, I was surrounded by all the major great artworks of our time. I went to the Museum of Modern art and saw a Picasso exhibition. The color abstractions and concept behind them stimulated not only my mind, but my heart and soul as well. I knew then that art would be my first love. The experience was orgasmic.
YardEdge: How would you describe your work?
Kesi: I have no theme. My work is as diverse as my experiences in life. I draw from the places I have been, my Jamaican heritage as well as several medium elements from paint to collage, the computer to attention to detail.
YardEdge: What other artists have influenced you and how?
Kesi: Because my work is so diverse-I am a painter, a graphic designer, a t-shirt designer I have been influenced by a lot of different people. I respect all works, from the old masters of the Renaissance period, to the Cubists and Pointillism era; to the graffiti walls of a New York subway and the Roman and Greek statues. El Lissitzky one of the founding fathers of Graphic Design, Michelangelo, Leonardo Da Vinci, Caravaggio, Milton Glaser who designed the I "heart" new york logo. Illustrator Maurice Sendak as well.
YardEdge: What other interests do you have outside of creating art?
Kesi: Well having worked in the advertising industry for the past 3 years, I have learned the tricks of the trade per se. I have learned a bit about marketing a product, whether it be a song, an artist, a t-shirt, toilet paper. I have learned about presenting the best image to the media and to the public. I really want to get into art direction for film, TV and print. I love taking a raw never been cultivated concept and bring it to life. I like the idea of making things pretty. From my house, to how I cook, how i dress, how I love, how I fuck, to my work.
YardEdge: What inspires you?
Kesi: Love, music, from the Killers to Depeche Mode, the muse to the likes of Marvin Gaye and Billie holiday. The ocean, the rivers, the sky, my lover, the glint in my daughter's eyes. The world itself inspires and motivates me.
YardEdge: Tell me about Sprawl Tees? How did that get started?
Kesi: 3 days after I graduated from college, I realized that I never would make a proper living off of what I did at school if I ever moved back to Jamaica. But I knew that I couldn't breathe without the sun shining on my face anymore. I chose to be at home. Once I made that decision, I thought well how could I make a living, doing what I do best. So I thought of incorporating my Jamaican heritage and slang and turning them into funny t-shirts. The whole message tee phenomenon had gotten really big by that time in the States.
YardEdge: What has been your biggest challenge with Sprawl Tees?
Kesi: The reaction from the storeowners, the lack of vision and perspective. They basically could not comprehend the idea of a word on a t-shirt.
YardEdge: Do you enjoy doing art as a "business"?
Kesi: Art is a way of life. But you can't eat food off of a way of life. So I just did like what a musician would do or a singer and try to make a living of my talents. In other countries. Art is very much a business and people can make a living off of their talent.
YardEdge: How have you handled the business side of being an artist?
Kesi: I wear many hats. I am the marketing person, the sales person when I need to be, I can separate my personal convictions when i make a sale, unless i feel it would hurt the potential customer.
YardEdge: Where do you get your ideas? How do you begin?
Kesi: It depends on what we are talking about. If it's a painting I look at what I want to say. And sometimes as I put the paintbrush to the canvas, my hand does it for me. With my graphic work, it depends on what is required of me and what I perceive to be the vision of the campaign.
YardEdge: Where do you see yourself in 10 years?
Kesi: I see Sprawl tees all over the world. I see myself still creating images and making statements about our society and hopefully inspiring individuals to think and do things as well.

www.sprawltees.com
www.sprawltees.blogspot.com
More with Kesi Gardner to come.